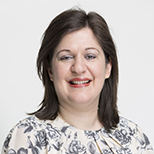 Soula Sitaras-Ghidotti
Sessional Lecturer
Business / Management, Marketing and People
Soula Sitaras-Ghidotti is a Sessional Lecturer in Managing, Marketing and People. She teaches in the areas of marketing, strategy and organisational behaviour.
Soula is passionate about teaching, and enjoys seeing students achieve and reach their potential. Her research has been based in the area of Transformational Leadership. She regularly conducts activity around dissertations, project supervision and marking.
Soula holds a Postgraduate Certificate in Higher Education.
Soula is a Fellow of the Higher Education Academy.