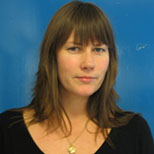 Sophie Park
Senior Lecturer
Applied Sciences / Human Sciences
Sophie joined LSBU in 2006 as a Senior Lecturer in Forensic Science. She began her training as a forensic biologist at Forensic Alliance Ltd (now part of LGC Forensics) in 2000. She then became part of the Homicide Team at the London Laboratory of the former Forensic Science Service, where she specialised in body fluid examination and interpretation, DNA profiling, Blood Pattern Analysis and the preparation and presentation of both written and oral evidence to Courts of Law. As a forensic biologist, Sophie has worked on hundreds of cases involving serious crimes including murders, sexual assaults, kidnappings and violent crimes.
Since 2008, Sophie has acted as a Forensic Consultant for Forensic Access Ltd, an independent forensic science provider, where she has been involved in the review and re-examination of numerous forensic cases involving biological evidence, in preparation for trials being held at Court.
Sophie is currently pursuing a PhD in Security Science at UCL, focusing on the transfer and persistence of trace levels of DNA.
Level 5
Level 6
Biological Evidence
Case Assessment and Interpretation
Research Project
DNA Profiling
Transfer and Persistence of Trace Levels of DNA
Blood Pattern Analysis
Professional Member of The Chartered Society of Forensic Sciences
Member of The International Society of Forensic Genetics
Provisional Member of The International Association of Blood Pattern Analysts
Fellow of the Higher Education Academy
Sophie is also a Consultant Forensic Scientist.