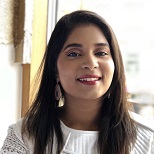 Sonal Khamajeet
Associate Law Lecturer
Law and Social Sciences / Law
Sonal Khamajeet is a passionate law lecturer and researcher with a particular expertise in Law of Equity and Trust, Human Rights and Land Law. She has been teaching on the LLB for over 5 years at various private and public institutions with experience in different teaching and learning methods.
Sonal holds an LLB Hons, LLM, MBA from London South Bank University and she is currently pursuing her PhD. Her research focuses on International Refugee Law seeking to demonstrate how the 1951 Refugee Convention may be out of date in relation to women's rights due to women belonging to a private sphere and being persecuted in certain ways such as Female Genital Mutilation (FGM). In short, the research aim is to show whether a sixth ground of persecution such as gender needs to be added to the Convention in order to reflect and promote International Women Rights.
Sonal currently teaches on 3LS, Legal Skills, Legal Study, Legal System and Property, Equity and Trust and she also supervises students on their final law project.
She has experience in teaching on different law modules such as Contract Law, Public Law, Land Law, EU Law, Research Methods for Law, International Refugee Law and Civil Liberties and Human Rights.
Sonal is currently conducting her research on violence against women but most specially women at risk of female genital mutilation (FGM). It concerns foreign nationals who are at risk of FGM and whether their rights are protected under the 1951 Refugee Convention. The research is assessing the professional perception of how well the Convention is protecting women at risk of FGM.
She is also researching on the feminist and legal theories and which she incorporates a lot in her teaching.
Present Affiliate Mediator- College of Mediators for Community Mediation