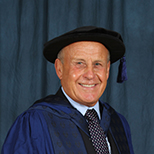 Sir Tim Wilson
Honorary Doctor of Science
Sir Tim Wilson is widely recognised as one of the leading thinkers in an area close to our hearts at LSBU: collaboration between academic institutions and industry. In his seminal review on the subject, published in 2012, he highlighted the central role of universities in both social and economic development and set out a series of recommendations for making the UK a world leader in business-university collaboration
Tim Wilson secured his first degree in mathematics and computer science at the University of Reading as an industry-sponsored undergraduate. This was followed by a masters in operational research from the University of Lancaster and a PhD in education management from Walden University.
He spent time working in industry as an analyst and mathematical modeller, but the major part of his CV is taken up with a series of academic posts, at Leeds Beckett, Cranfield and De Montfort universities, business schools in France and Germany and a number of US universities. He has also worked extensively in the Far East, promoting the benefits of education across international boundaries.
Tim joined the University of Hertfordshire in 1991, initially as Deputy Vice Chancellor and then as Vice Chancellor from 2003 to 2010. In 2011, the government commissioned him to carry out a fundamental review of business-university collaboration. The resulting report set out a series of practical recommendations for building stronger links, many of which have subsequently been implemented.
On his retirement from the position of Vice Chancellor, the University of Hertfordshire made him Emeritus Professor in recognition of his academic contribution. He holds honorary doctorates from Plymouth and Hertfordshire Universities and was awarded the 2012 CIHE Fellowship for his pioneering work in university-business collaboration. The Queen conferred a knighthood on him in the New Years Honours list 2011, for services to higher education and to business. In the same year, he became a Deputy Lieutenant of the County of Hertfordshire.