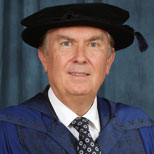 Sir Paul Judge
Honorary Doctor of Laws
Sir Paul Judge's career has spanned the commercial, public, political and non-profit sectors and taken him around the world. He has made his mark in the food industry, in politics and latterly as head of a successful investment trust. He is also a passionate advocate for education.
Sir Paul was an 11+ pupil at St Dunstan's College in south London. He won an Open Scholarship to Trinity College, Cambridge, where he studied Natural Sciences and Management, and then a Thouron Fellowship to the Wharton School of the University of Pennsylvania, where he gained an MBA.
On returning to the UK, he joined Cadbury Schweppes. Initially, he worked in the overseas group finance department, rising to become Group Deputy Finance Director. He then became managing director of Cadbury Schweppes Kenya, managing director of Cadbury Typhoo and subsequently Group Planning Director. In 1985, he initiated and led the buyout of Cadbury Schweppes's UK, Irish and French food businesses. The new company, Premier Brands, was sold in 1989 for £310 million.
Sir Paul then turned his attention to public and political life. He was appointed to the Milk Marketing Board and as chair of Food from Britain, set up by the government to promote British food exports. In 1992, he was voted Food Industry Personality of the Year. In the same year, he became Director General of the Conservative Party, overseeing a transformation of the party's organisation and a turnaround in its finances.
From here, he moved on to become a ministerial adviser at the Cabinet Office, responsible for competitiveness, deregulation, privatisation and information technology. He subsequently set up the Jury Team, a political movement aimed at promoting independent thought and open governance by providing backing and support for high-calibre candidates with no party allegiance.
At the beginning of the 1990s, he founded the Judge Business School at the University of Cambridge, which is now ranked among the top 10 business schools in Europe. His keen interest in education is a thread that runs through his subsequent business and philanthropic activities.
He has been President of both the Chartered Management Institute and the Chartered Institute of Marketing. He was Chairman of the Royal Society of Arts and of Teachers TV, a free-to-air TV channel that provided practical resources for teachers, and from 2006 to 2007 he chaired the Lord Mayor's 'City of London – City of Learning' project. He also sat on the board of the Higher Education Funding Council for England. He is currently Chairman of his old school, St Dunstan's College, and of the Enterprise Education Trust.
He remains active in many other fields too. Even a brief overview of his current activities makes for exhausting reading. He is an Alderman of the City of London and was Sheriff of the City until last month. He is a member of the court of the Worshipful Company of Marketors and the Foundation Master for the new City Guild of Entrepreneurs. He is Chair of the British-Serbian Chamber of Commerce and a special adviser to Chatham House. Then there are directorships and advisory roles with companies and non-profit organisations from Russia to Paris to Togo to the United States.
In 1996 Sir Paul was appointed a Knight Bachelor for his public and political services. He became a Brother of the Order of St John in 2013.