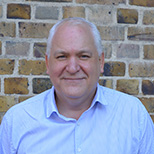 Simon Wickenden
Partnership Manager
Law and Social Sciences / Education
Simon joined the Centre for Education and School Partnerships as the Partnership Manager in October 2015. Simon previously worked in the addictions field for 15 years (researcher, project development officer, charity director and regional manager) before joining the Home Office in 2002 to work on, or operationally leading, numerous crime reduction programmes, community safety initiatives and partnership development projects for over ten years.
Simon is an experienced practitioner and strategist in partnership working - with a particular emphasis on leadership, relationship management, professionalism, community engagement, collaborative working, conflict resolution, performance management and project development. Simon has established partnership relationships with over 200 London primary schools - securing quality placements for trainee teachers and undergraduate students.
Simon supports (and supervises a number) first-year undergraduates on their first school placement, ensuring they have a positive experience and add value to the schools' communities and the children's learning.
Simon leads a seminar group on the third-year undergraduate module: Contextualising Education Globally.