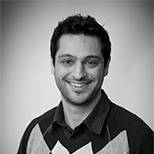 Dr Sevan Harput
Lecturer in RF Systems Signal Processing
Engineering / Electrical and Electronic Engineering
Dr Sevan Harput is a Lecturer in the division of Electrical and Electronic Engineering. He is an Associate Editor of the IEEE Transactions on Ultrasonics, Ferroelectrics and Frequency Control since 2018.
Before joining LSBU in 2019, he was a Research Associate in the Department of Bioengineering, Imperial College London. Between 2013 and 2016, he worked as a Research Fellow at the University of Leeds. He was awarded the University of Leeds Teaching and Research Award (ULTRA) in 2014.
He received his PhD degree from the University of Leeds, the UK in 2013, MSc degree in Electronic Engineering and Computer Sciences from Sabanci University, Turkey in 2007 and a BSc degree in Microelectronics Engineering in 2005.
Sevan leads the Ultrasound research lab, which aims to develop new imaging and sensing technologies using acoustic waves at ultrasonic frequencies. Current research projects focus on high frame-rate ultrasound imaging, super-resolution methods, 3D ultrasound imaging, signal processing for biomedical imaging, ultrasound sensor modelling and development. Please see the lab website for more details: https://sevanharput.github.io/
Associate Editor of the IEEE Transactions on Ultrasonics, Ferroelectrics and Frequency Control