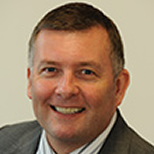 Scott King
Course Director - MSc Real Estate
Built Environment and Architecture / Construction, Property and Surveying
Scott's specialist areas include:
Property and real estate
Property valuation for commercial real estate
Training and coaching for property professionals
Property research
Scott King is the Course Director for MSc in Real Estate in the School of The Built Environment and Architecture.
After graduating with a degree in Estate Management, he fulfilled his ambition to become a chartered surveyor. From this role, he moved into academia, and became the youngest senior lecturer ever appointed by Berkshire County Council.As his career has progressed Scott has also moved into training and development, becoming involved in property related training for companies including Jones Lang LaSalle and Ernst & Young.
He has also developed a keen interest in coaching and its impact on maximising the performance of individuals within organisations. This has led him to become a qualified executive and business coach.
Over the last two years he has also been heavily involved in property related research. Recent projects have included research into recruitment trends for real estate graduates and a research project for a television company into first time buyer trends. The results of the latter were used to promote the television series 'First Homes', presented by Gaby Roslyn.