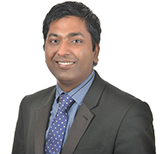 Saurav Goel
Associate Professor
Engineering / Mechanical Engineering and Design
Dr. Goel is an Associate Professor in the Division of Mechanical Engineering and Design in the School of Engineering at LSBU. He specialises in modern manufacturing methods (precision subtractive and surface manufacturing), as well as in the multiscale simulation method, coupling finite element and molecular dynamics technique. Dr. Goel also works for Cranfield University where he works as an Associate Director of the EPSRC Networkplus in the Digitalised Surface manufacturing and together with Prof Bill O' Neill (University of Cambridge). He manages the only Centre of Excellence in Precision Engineering "EPSRC Centre for Doctoral Training in Ultra-Precision Engineering". He has secured best research poster awards from EUSPEN and Heideinhein scholarship award from the topmost Precision Engineering Congress "EUSPEN" on numerous occasions and was selected to present his research at the British Parliament in the STEM competition in 2013.
In the past, Dr. Goel worked at Queen's University Belfast as a Lecturer and visited Keio University Japan, as a guest research (supported by the John Moyce Lessells travel scholarship from Royal Society of Edinburgh) and as a teaching assistant at Heriot-Watt University, Edinburgh. Aside from academic experience, Dr. Goel gained Invaluable Industrial experience as a Senior Engineer while working with India's largest Construction conglomerate Larsen and Toubro Limited and was instrumental in the Construction Planning of OP Jindal Global University at Sonipat.
Dr. Goel has taught various courses at various Institutions Internationally. He began his career at Queen's University, Belfast where he taught "Mechanics of Materials and Fracture Mechanics" to the UG and PG students. During this time in 2013, he was nominated for the best Teaching award in the student nominated category.
Subsequent to his move to Cranfield University in 2016, and after taking the responsibility of the CDT, Dr. Goel taught Courses in "Ultra-Precision Engineering, Additive and subtractive manufacturing and Metrology and optical testing" which were delivered to the Doctoral Students of Cranfield and of Cambridge Universities. He also organised labs and tutorials in "Ultra Precision Machining" training the student on diamond machining, modal analysis, and micromilling. During this time, Dr. Goel received the only award within the Manufacturing for the "Best Supervision". As for industries, Dr Goel has developed a dedicated short course titled "Ultra-precision-manufacturing-and-metrology" which is delivered yearly at Cranfield. More recently at LSBU, Dr. Goel co-teaches the module on Manufacturing systems and Materials Technologies to the final year students.
Dr. Goel has taught in India at IIT Guwahati under the flagship programme offered by MHRD, Govt of India under the "GIAN initiative" and holds an honorary appointment with Shiv Nadar University, India.
Until 2020, he has supervised 2 Ph.D. students and ~25 Master Students till completion from various countries.
Dr. Goel leads Precision Engineering and Multiscale Simulation frontal research areas targeted to health care applications both at London South Bank University and at Cranfield University. Additionally, he is Associate Director of the EPSRC Network plus in Digitalised Surface Manufacturing (EP/S036180/1) and the EPSRC Centre for Doctoral Training in Ultra-Precision Engineering with the University of Cambridge (EP/L016567/1). Towards his mission on creating societal benefits from his research, he has secured consistent funding support. He began working towards this by active administration of the Centre of Doctoral Training in Ultra-Precision at Cranfield to train the future manpower and is now working to combat the current challenges in the field of biomedical imaging to benefit people deprived of affordable healthcare across the globe. He has also been working on social issues like gender imbalance in higher education supported by the Indo-UK Industry partnership supported by the Royal Academy of Engineering (IAPP18-19\295) and has just secured the Prestigious Newton Fellowship award from the Royal Society (NIF\R1\191571) to work on modelling the interfacial issues in surface manufacturing. To date, he has published more than 50 peer reviewed journal papers in reputed Journals like Acta Materialia, Int J Machine Tools and Manufacture and Nature Scientific Reports securing well over ~1500 citations and h-index of nearly 25. Recently, his modelling research was highlighted in the Video competition (Gallery 2018) of UK's national supercomputer ARCHER elucidating that elucidated the wear of diamond while rubbing iron. He sits on several reviewing panels, Ph.D. examiner, and editorial panels including top tier journals in manufacturing.
Editorial board member for the "Journal of Micromanufacturing" by Sage publishers
Editorial board member of International Journal "Machines" by MDPI publishers: http://www.mdpi.com/journal/machines/editors
MRes Coordinator and Course Director for CDT in Ultra-Precision Engineering together with the University of Cambridge fully funded by the EPSRC (2012-2022)
Co-organised "ECNF" – European Conference on Nanofilms and led Session-3 on Modelling at Cranfield University, March 20-22nd 2018 (http://www.ecnf2018.org/main-topics/)
Co-organised IET- Tribology Conference on "Challenges in Tribology 2018" at IET Austin Court, Birmingham, UK, March 16th to 17th 2018
Co-organised "E-MRS" conference on "Solutions for critical raw materials under extreme conditions" at Warsaw, Poland, Sept. 18-21st 2017 (http://www.european-mrs.com/solutions-critical-raw-materials-under-extreme-conditions-emrs)