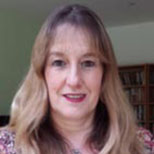 Sarah Prior
Senior Lecturer in Occupational Therapy
Health and Social Care / Allied Health Sciences
Sarah has worked in a variety of clinical settings and has been lecturing in occupational therapy for many years. She has a Masters degree in counselling. Her key interests are mental health and group work. Her research interests include all aspects of mental health (including cognitive behavioural therapy, substance misuse, eating disorders, forensic occupational therapy and prisons), women coping with illness, artistic leisure occupations, end of life care, Deafness, employment, retirement, dementia, ageing and children with disabilities.
Sarah has experience of teaching on all levels of all the occupational therapy courses.
Sarah has experience of qualitative research carried out in a wide range of settings.
Registered with the Health Care Professions Council
Registered with the British Association of Occupational Therapists