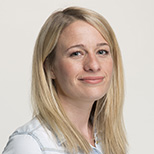 Sarah-Jayne Rowe
Senior Lecturer in Occupational Therapy
Health and Social Care / Allied Health Sciences
Sarah-Jayne is a Senior Lecturer in Occupational Therapy in the School of Health and Social Care and qualified as an Occupational Therapist in 2007 at Canterbury Christchurch University.
Sarah-Jayne has worked predominantly in acute in-patient hospitals and has clinical experience in a range of specialisms. These include care of the elderly, accident and emergency and acute care, surgery, trauma and orthopaedics, burns and plastic surgery, acute stroke rehabilitation and neurology.

With an interest in research, Sarah-Jayne completed a Masters of Research in Clinical Practice through the National Institute of Health Research at St George's University of London in 2014, studying the use of outcome measures in acute stroke rehabilitation.
Sarah-Jayne teaches on the pre-registration BSc (Hons) and PgDip/MSc occupational therapy courses at LSBU.

Sarah-Jayne has completed a Post Graduate Certificate in Academic Practice and is a Fellow of the Higher Education Academy.
Sarah-Jayne was the principle investigator on a research project exploring the sensitivity and predictive validity of the Modified Barthel Index outcome measure within acute stroke rehabilitation during her Masters of Research in Clinical Practice.
She has presented at occupational therapy and research conferences, and is passionate about raising the profile of research within occupational therapy.
Sarah-Jayne is a member of the British Association of Occupational Therapists and is Health and Care Professions Council Registered.