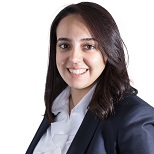 Dr Sara Abdaless
Head of Department Accounting, Finance and Economics
Business / Accounting, Finance and Economics
Sara is Head of Department in the division of Accounting, Finance and Economics, LBSU Business School. She specialises in areas of Management Accounting and Governance with interests in not for profit and public sector organisations. Prior to joining London South Bank University in January 2016, Sara has been a Graduate Teaching Assistant at Henley Business School, University of Reading since September 2012, where she has also been pursuing her doctoral studies (PhD).
Sara is passionate about teaching. She leads modules on both Undergraduate and Postgraduate levels. Some of the modules she has been teaching on are Management Accounting, Governance, Risk and Ethics, Leadership, Public Management and Governance, Fundamentals of Finance, and Managerial Finance. Sara's style of teaching is student centred, that allows interaction and applied learning.
Sara is also passionate about research, has been research active since 2012, and published a number of conference papers, a journal paper, and co-edited a book, in the areas of Governance, Corporate Social Responsibility and Budgeting.
Sara has contributed to the organisation of a number of international research conferences, notably Organisational Governance Conference (OGC) at De Montfort University (Leicester) and at Institut National des Postes et Télécommunications (Rabat), Governance, Accountability and Responsible Investment (GARI) at Henley Business School) and International Conference in Banking and Finance at London South Bank University.
2nd Organisational Governance Conference, Financial Crises and Corporate Governance: Understanding the Impacts on Risk Management and Accountability in the UK Local Councils, 14-15 September 2012, Abdaless, S., Adelopo, I. and Grigore, G. Rabat, Morocco
2nd Conference on Governance, Accountability & Responsible Investment, Towards Sustainability: An Analysis of the role of budgeting in a UK higher education system, 9-11 September 2014, Abdaless, S., Yang, J. and Kakabadse, N. Henley Business School, Henley-on-Thames, UK
4th Biennial International Conference of Global Accounting and Organizational Change, Power and Control in the Context of Organisational Change: A Case Study of Budgetary System in a UK University, 17-20 November 2014, Abdaless, S., Yang, J. and Kakabadse, N. American University of Sharjah, United Arab Emirates.
British Academy of Management Conference, A Structuration Theory Perspective on the Institutional Change in Higher Education Sector, 8 - 10 September 2015, Abdaless, S. and Yang, J, Portsmouth University, UK