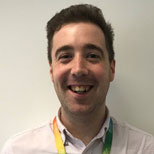 Robert Waterson
Senior Lecturer
Health and Social Care / Institute of Vocational Learning
Robert is a Senior Lecturer within the Institute of Vocational Learning. He joined the team in 2016 as a lecturer teaching bespoke workshops to the NHS workforce. He has worked in operating theatres at Guy's Hospital and more recently as a haematology nurse on a Macmillan Cancer Unit in Kent.
Rob was the Chair of the organising committee for the student-led Stop the Pressure Conference held in London in November 2015, organised by students and staff members from LSBU. He has also spoken within the School's health debates around the removal of the NHS bursaries. He enjoys public speaking and looking out for the interests of student healthcare professionals, enabling them to gain a voice for themselves.
Prior to nursing, Rob taught as a TEFL teacher in Kent and across Europe, and is looking forward to using the skills he learned within the healthcare setting. He enjoys teaching clinical skills and will spend his time delivering workshops within the Institute as well as running one of the Core Skills modules on the Foundation Degree in Health. He also works with admissions and runs two modules on the BSc (Hons) Health and Social Care: Administration and Management.
Rob holds a Postgraduate Certificate in Practice Education from LSBU and a Fellowship of the Higher Education Academy.
Rob develops and delivers workshops across the NHS workforce in a variety of clinical and soft skills. He is also the module leader for the Foundation Degree in Health on the Core Skills module for 1st year students. He is the admissions tutor with Zoe Linekar for the BSc (Hons) Health and Social Care: Administration and Management. He also runs the Interprofessional Working in Practice (Level 4) and Governance (Level 5) modules.
Nursing and Midwifery Council
Royal College of Nursing