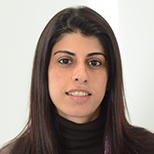 Risham Chohan
Undergraduate Year 2 Director of Studies
Law and Social Sciences / Law
Risham Chohan is a Senior Lecturer in the Law Department, where she is the Year 1 Director of Studies and module leader of Working in the Law and Employment Law. She also runs the Foundation Programme for Year 2 LLB students.
Risham has actively worked to address employability and has developed links with members of the legal profession to secure work placement opportunities for students on the Working in the Law module.
Risham is a member of the LSBU Employability Committee, a Student Conciliator and is responsible for admissions on the undergraduate programme.
Risham joined LSBU in 2004 as a sessional lecturer before going onto secure a senior lectureship.
Risham holds an LLB (Hons) from University of Hertfordshire, an LLM from UCL and is a non-practising Barrister.
Level 5
Year 2 Foundation Programme
Working in the Law
Level 6
Risham has undertaken extensive research into student retention, engagement and progression, as the Year 1 LLB (Hons) Director of Studies and has presented at conferences internally and externally including:
LSBU Staff Conference – Annual Conference, 2016
Association of Law Teachers - Annual Conference, April 2017
Higher Education – What Works Conference, April 2017
Higher Education Annual Conference – Generation TEF: Teaching in the spotlight, July 2017
Fellow of the Higher Education Academy
Trustee at Southwark Law centre (January 2012 – September 2017)