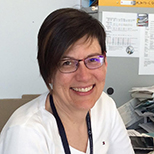 Renée Francis
Senior Lecturer
Health and Social Care / Mental Health and Learning Disability
Renée is the Course Director of the BSc (Hons) Learning Disability Nursing. Her special interests are palliative care of people with intellectual disabilities, participatory research with people with intellectual disabilities and supporting families of people with intellectual disabilities. She is also interested in interprofessional learning and ensuring key messages about the health of people with intellectual disabilities are delivered across the nursing and midwifery curriculum.
Renée has been a Registered Learning Disability Nurse since 1997. She has an MSc in Health Research and is registered as a Nurse Teacher with the Nursing and Midwifery Council. Renée also has a BA with honours in Psychology.
Renée joined LSBU in 2011, and has been Course Director since September 2013. Prior to this, Renée was a Lecturer in Learning Disability Studies and in Health and Social Care. She has also taught on Social Work programmes. In her clinical practice, Renée worked in residential services, a day service and an integrated Community Learning Disability Team, as well as being a registered mentor supporting final year nursing students. Additionally, Renée was also seconded to a Department of Health funded research project evaluating the use of a hand-held health record by people with intellectual disabilities. In this role, she supported a service user with intellectual disabilities to interview other service users about their health.
Renée has practice links with Moore Ward at Goodmayes Hospital, Havering Community Learning Disability Team and Barking and Dagenham Community Learning Disability Team (all within North East London Foundation Trust) and with Demelza Hospice Care for Children (South East London and Sittingbourne).
Renée teaches in the following disciplines:
Research methods
Practice development and evidence-based nursing
Palliative care of people with intellectual disabilities
Bereavement and loss
Specialist nutrition and dysphagia
Healthcare needs of people with profound and multiple disabilities
Needs of families
Mental Capacity Act 2005
2004-5, MSc Research: The Lived Experience of Siblings of People with Learning Disabilities.2002-5, Interviewer for the Personal Health Profiles Research Project
Nursing and Midwifery Council (Registered Nurse – Learning Disabilities and Registered Nurse Teacher)
Learning and Intellectual Disability Nursing Academic Network
Palliative Care for People with Learning Disabilities Network
Renée is an Explorer Scout Leader and works with Young Leaders in Scouting to help them develop their leadership skills. She supports them in developing inclusive practices within Scouting at all levels.