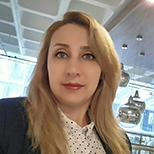 Dr Rana Tajvidi
Lecturer in Digital Marketing
Business / Management, Marketing and People
Dr Rana Tajvidi is a lecturer in Digital Marketing in LBSU Business School at London South Bank University.
Rana received her PhD in Marketing from the University of Bangor, UK (2017). She also holds a MBA in Business and Marketing with Distinction from Bangor University (2013). Her active research areas are in Digital Marketing, Social Media, Consumer Behaviour, Networking and SMEs. To date, her research has been published in several management and marketing journals and presented in international conferences.
She has experienced in working in the industry as a marketing manager at ITM Co., a leading manufacturing company in the Middle East. She presently teaches courses on Social and Digital Marketing, Market Research, Insight Manager and Research Methods.
Rana's teaching areas cover:
Research Methods
Social and Digital Marketing
The Insight Manager
Marketing Research