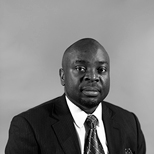 Rafiu Dimeji Seidu
Lecturer in Quantity Surveying
Built Environment and Architecture
Rafiu Dimeji Seidu is a Course Director for Commercial Management (Quantity Surveying) and Lecturer in Quantity Surveying in the Department of Construction, Project and Surveying, School of the Built Environment and Architecture at LSBU. He was previously working as a Senior Quantity Surveyor in the Industry before joining LSBU in 2017. He spent over 20 years working abroad as a Quantity Surveyor, rising to the position of Senior Quantity Surveyor working in both construction and consultancy firms.
He graduated from Yaba College of Technology, Lagos, Nigeria before proceed to University of Greenwich, London, UK for Quantity Surveying Degree . His Master Degree was in Construction Management and Economics (Distinction), Greenwich, UK. His currently studying at Queen Marry University of London for PGCAP in Higher Education.
Rafiu lectures at undergraduate and postgraduate levels in the areas of Quantity Surveying. He supervises UG and PG students' research papers and dissertations in different areas of cost management, construction and project management, contract management, procurement and value proposition and management.
Rafiu Dimeji specialises in Quantity Surveying with interest in the following research areas:
Construction Project Management
Procurement - Techniques and Processes
Construction Contract Administration
Quantity Surveying/Construction Cost Management
Construction Economics/Design Economics
Building and MEP Measurement
Value proposition, management and whole life circle costing
Member of Construction, management, economics and integrated delivery, research group in the school of Built Environment and Architecture, Division of Construction, Property and Surveying, one of the largest in the UK specialising in the built environment.
Reviewer for the International Journal of Building Pathology and Adaptation.