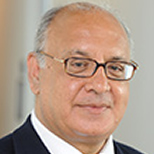 Prof. Tariq Sattar
Emeritus Professor
Engineering / Electrical and Electronic Engineering
Professor Tariq Sattar's specialist areas include:
Control engineering
Robotics and Non-Destructive Testing
Mechatronics
Electrical engineering
Electronics engineering
He leads the teaching in Mechatronics at both undergraduate and postgraduate level in the School.
Tariq leads LSBU's Automated and Robotic Non-destructive Testing research, which has been at the forefront of the development of robotic Non Destructive Testing (NDT). Its work has won seven awards for industrial innovation from the Industrial Robot International Journal and the conference on Climbing and Walking Robots & their Supporting Technologies (CLAWAR). Its research was selected in 2010 by the Royal Society for their 350th anniversary celebrations and in 2011 by the Royal Academy of Engineering for the Big Bang Engineering Fair at the ICC Excel Centre in London.
Tariq was born in Nairobi, Kenya and moved to the UK to complete undergraduate study in Electrical and Electronics Engineering with postgraduate research into Adaptive Control Systems. In the past he has served as the Head of the Department of Electrical, Computer and Communications Engineering for three years.
He has led the development of twelve wall-climbing and submersible mobile robots for a variety of usages including:
the internal and in-service inspection of the walls and floors of oil and petrochemical storage tanks (ROBTANK) and tanks for floating production storage of oil (FPSO);
the inspection of fuselage and wings of aircraft for loose rivets and cracks (ROBAIR), the inspection of nozzle welds on the internal walls of nuclear pressure vessels (RIMINI);
NDT wall climbing robots (CROCELLS);
the inspection of wind turbine blades (CONCEPTS).
Tariq's research has been reported in invited book chapters for the American Society for Non-destructive Testing (ASNT) and the International Journal of Advanced Robotic Systems, keynote conference speeches and in journal papers.