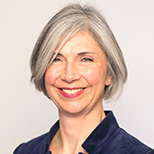 Prof. Shân Wareing
Chief Operating Officer and Deputy Vice Chancellor (Education)
Prof. Shân Wareing is Chief Operating Officer and Deputy Vice Chancellor (Education) at London South Bank University (LSBU) and a Professor of Teaching in Higher Education. She has responsibility for learning enhancement across the University, the Centre for Research Informed Teaching and the LSBU Learning Pathway, and for Student Services and Employability, digitally enhanced learning, quality assurance and enhancement, and work based learning.
She has academic qualifications from Oxford University, Strathclyde University, and the Institute of Education, University College London.
Prof. Wareing's previous roles include:
Pro Vice-Chancellor Learning and Teaching, Buckinghamshire New University
Dean of Learning and Teaching Development, University of the Arts London
Director of the Educational Development Centre, Royal Holloway University of London
Head of Learning Development University of Wales College, Newport (University of South Wales)
Director of Educational Development, Roehampton Institute London (Roehampton University)
Senior Lecturer in Teaching & Learning Support, Kingston University
Lecturer in English Language and Linguistics, Roehampton Institute London (Roehampton University)
As PVC Learning and Teaching at Bucks, Prof. Wareing was Deputy Chair of Senate and responsible for the Directorates of Learning and Teaching, Academic Quality Development, including Research Administration, Student Services, including Library Services, Marketing and Student Recruitment, and for Timetabling. She oversaw the 2014 REF submission, and led the University preparations for Research Degree Awarding Powers.
Her successful bids include:
Creative Interventions: a research project to identify the value of a creative education to public and third sector employment; Higher Education Academy 2008 (£200,000)
Arts Learning and Teaching Online (ALTO): a repository for open educational resources; JISC 2010 (£250,000)
Digital Integration into Arts Learning: increasing the digital literacies of students and staff; JISC 2011 (£100,000)
Prof. Wareing's initial teaching experience was in the field of literature, language and linguistics. Her roles included lecturing in English Language and Linguistics at Roehampton Institute London (Roehampton University), occasional lecturing on the Oxford University Continuing Education Programme, and tutoring on the Edinburgh University International Summer School.

She also taught study skills and learning development to undergraduate and postgraduate students, and has a qualification in Teaching English as a Foreign Language and taught English for Academic Purposes in Japan and in the UK.
Prof. Wareing has extensive experience of developing, teaching on and examining professional postgraduate qualifications in teaching in Higher Education, including external examining roles at the Universities of Bath, Reading, Surrey, Sheffield Hallam, Oxford Brookes, and Staffordshire.
She coaches and mentors colleagues, and contributes to professional programmes including UCL's MBA in Higher Education on Change Leadership, and the Power and Politics module of Aurora, the Leadership Foundation for Higher Education's programme for women.
Prof. Wareing has published in the fields of gender and stylistics, educational development, and leadership, and is an invited speaker at national and international events on these topics.
2014: Principal Fellowship of the Higher Education Academy
2014: Fellowship of the Leadership Foundation for Higher Education
2012: Professor of Learning and Teaching in Higher Education
2011: National Teaching Fellow, Higher Education Academy
2000: Senior Fellowship, Staff and Educational Development Association
2014-15: Board of Directors of the Office of the Independent Adjudicator (OIA) Alternate Director for GuildHE
2014:Jisc Co- creation stakeholder consultation
2014:Aston University: chair of the Mock Higher Education Review
2014:Northampton University: chair of the Mock Higher Education Review
2013-14:English Subject Benchmark Review Group
2013:HEA Student Engagement Summit
2013:HEA National Teaching Fellowship Review Group
2013: HEA National Teaching Fellowship Scheme Evaluator
2012:Reviewer, International Higher Education Teaching and Learning Review (IHR)
2011-12:Fellowships Co-ordinator, Staff and Educational Development Association
2011-12:Chair, Services and Enterprise Committee, Staff and Educational Development Association
2007:Birmingham City University: external evaluator for the undergraduate curriculum redesign
2006-10:York St John University: external evaluator for the Centre for Excellence in Higher Education
2006-08:Member of the JISC Regional Support Committee
2005-10:AimHigher tutor, Hounslow
2004-07:Co-Chair (2 years), Vice Chair (1 year), Staff and Educational Development Association
2004-12:Evaluator for Higher Education Academy National Teaching Fellowship scheme and for the Senior Fellowship scheme
2003-07: Heads of Educational Development Group (HEDG) Steering Group
1993:Visiting Professor; English Department, Michigan State University, Michigan, U.S.A.
1999-2000:Educational Consultant for British Council, Kutaisi State University, Georgia