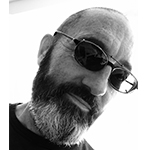 Prof. Philip Hammond
Professor of Media & Communications
Arts and Creative Industries
Philip Hammond is Professor of Media and Communications in the School of Arts and Creative Industries. He is the author/editor of seven books and of many journal articles and chapters in edited collections. He is course director of BSc Criminology with Journalism, BA International Relations with Journalism, BA Politics with Journalism and MA Journalism with Development Studies.
Philip Hammond is course director of MA Journalism with Development Studies, and acting course director for the MA Creative Media Arts Scheme. He also teaches a number of modules for BA Journalism, including Journalism & Society, Journalism Futures and Global Journalism.
Professor Hammond is interested in the relationship between the media and the political disorientations of our post-ideological era. Much of his work has focused on the role of the media in post-Cold War conflicts and international interventions, and he has
extended this to look not only at the news media but also film and video games.
In 2017-18 Professor Hammond was Principal Investigator for an AHRC-funded research network on war and games, and he recently completed a book on Climate Change and Post-Political Communication (Routledge, 2018).