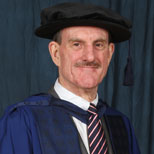 Prof. Peter Rees
Honorary Doctor of Science
Professor Peter Rees, as Chief Planning Officer for the City of London for almost 30 years, has overseen the transformation of the Square Mile. No longer the preserve of staid gents in bowler hats, it is now a vibrant, cosmopolitan hub with truly 24-hour appeal.
Peter originally qualified as an architect, studying at UCL and Cardiff. He began his career working alongside townscape consultant Gordon Cullen, before moving to the Department of the Environment's conservation team and then to Lambeth Council, where his role involved breathing new life into the borough's neglected buildings.
It was at this point that he decided he needed a formal qualification in town planning to add to his grounding in architecture, and spent three years at South Bank studying part time. 'I wanted to formalise my knowledge of town planning,' he says. 'I've always been more interested in how whole areas work, rather than individual buildings. It's the mix of elements that makes a place dynamic. In 1985, he arrived at the Guildhall to head up the Corporation of London's planning department. His remit was to reshape the City in the wake of the 'Big Bang', the deregulation that opened up London's money markets and led to a massive influx of business and investment.
The role required a strong awareness of both the City's impressive heritage, and the need to maintain its status as the world's pre-eminent business centre for years to come. 'I saw my role as striking a balance between a 2000-year history and a 2000-year future,' Peter has said.
His vision for the City was of a place that would attract the very brightest brains from all over the world, and provide them with the opportunity to play hard as well as working hard. In short, he wanted – in his own characteristic turn of phrase – to make the Square Mile a bit less square.
It's fair to say that he has succeeded in style. More people are living in the City, as well as working there. Cheapside, the City's high street, is buzzing. The Royal Exchange offers high-end retail to rival the world's great shopping destinations. And countless bars and restaurants stay open into the early hours – a far cry from the early days of Peter's tenure when he recalls the pubs would empty at 8pm as the tidal wave of commuters flooded back over London Bridge and home to the suburbs.
Business is booming too, and not just in the traditional field of finance. Peter has worked hard to create an environment with the right amenities and atmosphere to attract the likes of Bloomberg, Saatchi & Saatchi and Amazon, as well as many smaller tech firms.
But perhaps his greatest – and certainly his most eye-catching – achievement is the cluster of skyscrapers that have emerged at the City's eastern end in the past few years. The Gherkin has been followed by the Cheesegrater and the Walkie-Talkie, all three notable for their bold architecture but also for the way in which they complement each other and sit within their historic surroundings. 'Whether it's protecting a view or creating a public space, a new building must give something to the place it's in,' Peter says.
Earlier this year, Peter stepped down from his role in the City to take up a new role as Professor of Places and City Planning at The Bartlett, UCL's school of architecture where he once studied. He now plans to focus his considerable energies on educating and mentoring young architects and planners.
He is enthusiastic about the prospect of spending time with young people at the start of their careers, who are brimming with ideas and questions. Just as important, the new role will also allow him to continue shaping the future of the city he loves. It's a passion that runs deep. 'I'll never forget my first sight of the City,' he says. 'I was just 13 years old. Ever since then, I've felt like it's my place.'Now, Pro Chancellor, in recognition of his vision, his achievement in transforming the City, and his commitment to sharing his knowledge and experience with the next generation of architects and planners, I present to you Professor Peter Rees for the award of Honorary Doctor of Science.