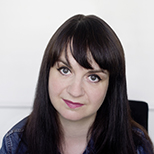 Prof. Paula Reavey
Professor of Psychology and Mental Health; Course Director MSc Mental Health and Clinical Psychology
Applied Sciences / Psychology
Paula Reavey is Professor of Psychology and Mental Health at LSBU, research lead and consultant on projects at the Maudsley and Royal Bethlem hospitals and honorary research consultant at St. Andrew's. She is also a Director of the Design in Mental Health Network UK.
She has co-edited two volumes, "New Feminist Stories of Child Sexual Abuse: Sexual Scripts and Dangerous Dialogues" (with Sam Warner, Routledge, 2003) and "Memory Matters: Contexts for Understanding Sexual Abuse Recollections" (with Janice Haaken, Psychology Press, 2009), and a sole edited volume, "Visual Methods in Psychology: Using and Interpreting Images in Qualitative Research" (Routledge, 2011 - now being prepared for a second edition). She has also published two monographs, "Psychology, Mental Health and Distress" (with John Cromby and Dave Harper, Palgrave, 2013 - winner of the British Psychological Society Book Award, 2014 – now being prepared for its second edition) and "Vital Memory and Affect: Living with a Difficult Past" (with Steven D. Brown, Routledge, 2015). She is currently working on an edited volume on Space & Mental Health (with Laura McGrath, for Routledge).
Paula has also published nearly a hundred articles on mental distress, social remembering and child sexual abuse, using a variety of qualitative and visual methodologies. She has designed and taught on courses relating to the psychology of mental health and distress and has developed a Masters in Mental Health and Clinical Psychology, which has a firm focus on the lived experience of individuals coping with, and managing distress.
BSc Psychology
Psychology of Mental Health and Distress
Psychology of Sex, Gender and Relationships
MSc Mental Health and Clinical Psychology
Experts by Experience
Exploring Mental Health and Distress
Research Methods for Mental Health
Prof. Reavey is currently involved in a number of projects, examining mental distress, sexuality, emotions and memory:
Project consultant at the Maudsley Hospital, examining young people's experiences of supported discharge
Project leader at the Royal Bethlem Hospital, examining patient experiences of space within the hospital
Project collaborator on a project examining witnesses with mental health difficulties
Project collaborator examining experiences of childhood emotions and space
Professor Reavey's research is concerned with the relationship between cultural practice, psychological processes (namely memory, emotion, decision-making) and embodied experience. In essence, she defines herself as a social psychologist with a strong interest in culture. In order to accomplish this, she draws on a mixture of social psychology, feminist philosophy, sociology and cultural anthropology.
At the centre of her work is a concern with the variety of ways in which culture shapes the manner in which individuals experience events and relationships in their lives, with particular reference to negative events and relationships such as trauma, abuse and neglect. Her concern also rests with the precise manner in which psychology as a discipline has tended to handle these issues.
A number of studies she has conducted have examined how psy-professionals (e.g. psychiatrists, clinical psychologists and psychotherapists) construct the nature of abuse, trauma and neglect and its potential effect on adult identity and mental health. The work then asks questions such as: how do women survivors of child sexual abuse and the professionals who treat them understand the relationship between and an abusive past and current concerns and/or mental distress? What is the impact of culture on self-perception in relation to mental health and sexual abuse? Why has sexual trauma become a key way in which women (in particular) make sense of their adult lives? Are professionals sensitive to cultural differences in their assessment of mental distress and sexual abuse?
As a psychologist with a keen emphasis on cultural processes, Professor Reavey is committed to an interdisciplinary approach and sees her work as a critical dialogue with other social sciences. Part of this work involves engagement with concepts drawn from feminist cultural theory (Grosz, Butler, Bordo), geography (Massey), cultural studies, (Massumi) sociology (Latour) and science studies (Stengers, Law). Her aim is to advance psychological vocabulary by expanding its focus on mental processes to understanding psychological processes as embodied, as existing in spatial relationships and in various material networks and relationships. This is reflected in work produced on memory (with Professor Steve Brown and Professor Janice Haaken) on cultural collective; memory, space and agency and the role of cultural artefacts in the production of adoption memories and memories of child sexual abuse.
This approach necessarily advocates a kind of psychology, which orients towards necessary contradictions, ambivalences and dilemmas in people's accounts of their experiences. It is also a form of psychology that fully embraces the interconnections between the environment and body and mind. This has led Professor Reavey to develop, not only alternative ways of thinking about the subject of psychology, but has also facilitated the development of innovative methods of psychological investigation.
Her former reliance on interviews alone to study the language that people use to construct their world has now been supplanted with a wider focus on how to study people's experience in a variety of modalities, including modalities of space and the visual. She has now adopted a more multi-modal attitude towards research and have supervised students who are keen to use a variety of innovative techniques to investigate people's experiences on topics such as embodiment, hearing voices, anxiety and internet use and South Asian women's experiences of intimacy.
Her international leadership in the use of innovative qualitative research is recognised by invitations to contribute to leading texts in the field, for example a chapter on visual psychology for an International Handbook of Qualitative Research published by the American Psychological Association (Reavey, 2012) as well as invitations to give conference papers and talks, nationally and internationally. Psychology press at Routledge also commissioned an edited collection on visual methods, which is the first of its kind in psychology: Reavey, P. (ed.) (2011) Visual Methods in Psychology: using and interpreting images in qualitative research.
Consultant Researcher, Maudsley Hospital, South London and Maudsley NHS trust
Director of Research and Education, Design in Mental Health Network
Editor, Child & Adolescent Mental Health
Editorial Board Member, Memory Studies and Feminism and Psychology
Expert Reviewer, Wellcome Trust, ESRC, Leverhulme, NIHR
Honorary Consultant Researcher, St Andrew's Healthcare Trust
Senior Fellow, Advance Higher Education
Working group member for NHS England – built environments projects