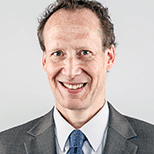 Prof. Patrick Bailey
Provost
Prof. Patrick Bailey joined LSBU's Executive team as Deputy Vice-Chancellor on 1 September 2014. At the end of 2018, he took on the role of Provost.
Gaining UG and PhD degrees in Chemistry at Oxford University, Patrick began lecturing at York University in 1983, leaving to take up the role of Chair of Organic Chemistry at Heriot-Watt University in Edinburgh ten years later in 1993 – where he stayed until 2000. During this time, Patrick was also a very active researcher, working on organic synthesis and drug delivery, and winning the AstraZeneca prize for work on polycyclic peptides. Patrick moved to the University of Manchester, initially as Professor of Chemistry, then as Associate Dean for Teaching and Learning where he oversaw 6000 students, nine schools, 600 members of staff and an associated income of £50m.
Patrick moved to Keele University in January 2008 as Executive Dean of the Faculty of Natural Sciences, and as Pro-Vice-Chancellor for Environment and Sustainability (for which he won the Green Gown Leadership Award in 2014). During his time there he tripled the university's research income; oversaw the planning, funding and opening of the £3.5m Sustainability Hub; and maintained a small research group that focused on the synthesis of medicinally important heterocycles, and on the development of new ways of delivering drugs more effectively.
Patrick has helped establish a wide range of new degree courses, and was editor of the RSC journal University Chemistry Education. His teaching has been recognised by the RSC Higher Education Teaching Award (1998), the RSC Nyholm Lectureship (2000), the UMIST Teaching Award (2003) and he has received a National Teaching Fellowship (2005).
Patrick is one of LSBU's Executive Team responsible for our University's approach to managing sustainability. He is Chair of the Sustainability Steering Group, which sets the strategic direction for LSBU's sustainability programme, and he plays an active role in the promotion of these issues across the sustainability spectrum and across campus.
Patrick has been recognised as an inaugural EAUC Fellow. The EAUC is the professional member organisation for environmental and sustainability within the HE sector. The purpose of Fellowship is to recognise those members who have made a major contribution to the Higher Education sustainability agenda and to create a more productive and powerful partnership between EAUC members, Board and staff.
Patrick's research is focused on various aspects of synthetic and medicinal chemistry, and has been published in over 100 peer-reviewed papers. He's run research groups in medicinal/synthetic chemistry and has recently worked on the first efficient synthesis of an indole alkaloid called ajmaline (used to treat patients with irregular heartbeat), and developing technologies to help the uptake of pharmaceutically important compounds that aren't orally absorbed.
Patrick's research has been recognized by a Yorkshire Cancer Research Campaign career development award (1986-91), the Zeneca Research Award for Organic Chemistry in 1994, and election to the Royal Society of Edinburgh (1999).
Patrick has been very involved in developing new teaching methods in universities, and was subsequently awarded a National Teaching Fellowship in 2005. Patrick is also a Fellow of a number of learned societies: the Royal Society of Chemistry, the Royal Society of Edinburgh, the Royal Society for the encouragement of Arts, Manufactures and Commerce and the Higher Education Academy (HEA).
He has received a Yorkshire Cancer Research Campaign career development award (1986-91), the Zeneca Research Award for Organic Chemistry (1994), and was elected to the Royal Society of Edinburgh (1999). His contributions to education have also been recognised by the Nyholm Lectureship and Medal from the Royal Society of Chemistry.
In addition to his excellent academic track record, Patrick is hugely experienced in outreach activity. Patrick has given numerous popular chemistry talks to schools and the general public, for which he received the Lord Kelvin Award from the British Science Association.
His external appointments have included membership and chairing of EPSRC grant panels, coordinating/advising on £26m of HEFCE funding for promoting science in higher education, extensive external examining at undergraduate and PhD level, and membership (and chairing) of numerous committees in the chemistry profession.