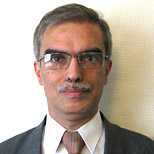 Prof. Mohammad Ghavami
Head of BioEngineering Research Centre
Engineering / Electrical and Electronic Engineering
Prof Ghavami is in the Department of Electrical and Electronic Engineering, School of Engineering. He is the founder and leader of the Bioengineering (BiMEC) Research Centre. His research interests include UWB signal processing, biomedical applications, adaptive antenna systems, and wireless technologies.
Prior to LSBU, he was with King's College London, from 2002 to 2010, Sony Computer Science Laboratories Tokyo, from 2000 to 2002, and Yokohama National University from 1998 to 2000. He has authored the books, Ultra Wideband Signals and Systems (Wiley 2007), and Adaptive Antenna Systems (Wiley 2005), and has published over 180 technical papers mainly related to UWB technology, smart array antenna systems and biomedical signal processing. He holds three US and one European patents. He won the esteemed European Information Society Technologies Prize, in 2005, and two invention awards from Sony.
He has been acting as the Guest Editor of the IET Proceedings Communications, the Special Issue on Ultra Wideband Systems, and the Associate Editor of the Special Issue of the IEICE Journal on UWB Communications. He is now the Guest Editor of the MDPI Sensors journal on UWB Systems in Biomedical Sensing.
Current teaching:
DSP and Real Time Systems
Circuits, Signals and Systems
Optical and Microwave Communications
Previous teaching at different universities:
Wireless Communications and Satellite Systems
Optical, Microwave and UWB Systems
DSP for Communications
Analogue, Digital and Wireless Communications
Networks and Broadband Systems
Introduction to Electrical and Electronic Systems
Electrical Fundamentals
Linear Circuits and Dynamics
Analogue Electronic Circuit Analysis and Design
Fundamentals of Electricity
Random Variables and Stochastic Processes
Electrical and Electronic Circuits Analysis
Linear Control Systems
Engineering Electromagnetics
Communication Engineering
Instrumentation and Measurements
Industrial Control
Mobile Communications
Digital Control Systems
Adaptive Control Systems
Numerical Control Systems
Selected recent funded research projects:
Reliable Technologies and Models for Verified Wireless Body-Centric Transmission and Localization (EU ROVER 2020-2024, £150K)
UWB wearable apparatus for bone fracture imaging and recovering monitoring (EU WEBOING 2018-2020, £180K)
Digital Agent Networking for Customer Energy Reduction (EPSRC DANCER 2012-2017, £911K)
Measurement & Modelling of the Spatio-Temporal UWB Radio Channel (EPSRC 2004-2007, £300K)
IEEE Senior member since 2005
IET member
External examiner:
BEng Electrical Engineering at the Royal Holloway University of London from 2018.
MSc programmes at Thames Valley University from 2010 to 2014.
MSc programmes at the University of Greenwich from 2010 to 2015.
Invited Research Visits:
University of Kaiserslautern, Germany, Summer 2018 (one month).
Keio University, Japan, Summer 2015 (two months).
Keio University, Japan, Summer 2012 (two months).
University of Kaiserslautern, Germany, Summer 2011 (one month).
Keio University, Japan, Summer 2008 (two months).
University of Kaiserslautern, Germany, Summer 2006 (two months).
Yokohama National University and the National Institute of Information and Communications Technology (NICT), Japan, Summer 2004 (two months).
University of Kaiserslautern, Germany, Summer 1996 (two months).