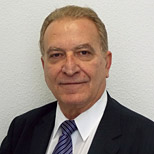 Prof. Marouan Nazha
Emeritus Professor
Engineering / Mechanical Engineering and Design
Marouan obtained his first degree in Mechanical Engineering at Queen Mary College (UL), and his MSc in Internal Combustion Engineering at King's College (UL).
After two years in the oil industry he joined the combustion research group at QMC (now QMUL), where he obtained his PhD. He played a major role in the design and development of the high-pressure combustion facility at QMUL and was in charge of its operation for a number of years.
He moved to DeMontfort University (DMU) in 1992 where he established the Combustion and CFD Research Group. He contributed substantially to the improvement of DMU Mechanical Engineering research profile from an RAE score of 1 in 1992 to 4 in 2001. DMU appointed him to the chair of Thermofluids in 2001 and he served in a number of academic managerial positions in Engineering and Design subject areas.
He joined LSBU in September 2008 where he became Head of the Department of Engineering Systems and subsequently Head of the Department of Engineering and Design.
Marouan's research covers experimental and modelling work and is focused on IC Engines, alternative fuels and alternative energy systems. He has published widely in international journals and participated in prestigious conferences. He is a winner of the Inst. of Energy Prize for best paper on liquid fuels and a member of EPSRC College of peer reviewers since its inception. He is regularly called upon to review publications, research proposals and final reports for scientific journals, research council, learned societies and governmental departments. He has served on several advisory panels for future energy research in the UK and the USA.
The Academic Board awarded Marouan the title of Emeritus Professor of London South Bank University following his retirement in March 2015. Marouan continues to contribute to academia in his new role by concentrating on his research activities.