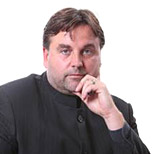 Prof. Markus Raab
Professor
Applied Sciences / Human Sciences
Markus' research areas is Performance Psychology that describes, explains and predicts human behavior in complex performance situations, mostly in the context of sport, exercise and psychological demanding environments. He is trained as a human movement scientist and cognitive psychologist and graduated in both fields, and is interested in the relation between Mind and Motion, and Thought and Action, often referred to as Embodied Cognition. He coined terms such as Motor Heuristics and Embodied Choices to illustrate that humans in complex situations needs to decide and action upon their decisions with limited time, capacity and knowledge and thus may often need to rely on their expertise, experience and intuition.
leads the Department of Performance Psychology at the German Sport University and is a part-time research professor at London South Bank University. Leadership in research project, research groups, as a program director is team-oriented.
Markus' main research interests are within sport, exercise and performance in general. Judgment, decision-making, motor learning and control, embodied cognition are areas of his profile studied from a dynamic and probabilistic cognitive psychology perspective using simple heuristics.
He has organised his thinking and research structure in four different areas in a cube the content multi-construct research in perception, action, cognition and emotion, the research paradigms using experiments, diagnostic/interventions, neuro-physiological methods and hormone/transmitter analyses as well as the focus of my research to theoretical, empirical, methodological and applied transfer. I see research as a team activity and thus organise Institutes, Departments in groups and at the same time foster progress in lab meetings, progress-reports within and between institutional structures.
The main focus his research is on the behavioural level (with some interest in neuropsychological research) and is two-fold:
Motor Learning and Motor Control (including interests in implicit/explicit learning, feedback and instruction, sensorimotor integration in pursuit tracking, embodiment and embodied cognition)
Judgment and Decision Making in Sports (including dynamic models of Simple heuristics, Decision Field Theory, sampling, predicting sport outcomes, option generation)
Most recent funding:
PI - Coaching education evaluation. 2010-2012, ca. 120.000 Euro, German Soccer Association (DFB), Institute is part of the psychological education of German Soccer coaches
PI - Focal dystonia in music and sport. 2010-2012, ca. 120000 Euro, German Research Foundation (DFG). Klämpfl et al., 2013
PI - Acustic reafference. 2011-2013, German Research Foundation (DFG), Mauro et al., 2012
PI - The yips in Golf. 2012-2013. German Institute of Sport Science (BISp), ca. 40.000 Euro. Yips prevention education in the German Golf association
PI - TMS_EEG_EMG Infrastructure grant, 2009-2013, ca. 236000 Euro. German Research Foundation (DFG)
PI - Freedom for Research program, 2013-2014, ca. 80000 Euro, State of North Rhine-Westphalia
Member of the German Association of Sport Science (dvs), the German Association of Sport Psychology (asp), the North American Society for Psychology of Sport and Physical Activity, the Canadian Society for Psychomotoric Learning and Sport psychology (SCAPPS), German Society for Psychology, the Psychonomic Society and the Brunswick Society.
Vice president of the Scientific Advisory Board of the German Federal Institute of Sport Sciences from the Minister of the Interior.
Member of the Managing Council of the European Sport Psychology (FEPSAC) since 2011.
Member of the Managing Council of the German Sport Psychologist (asp) since 2013.
European Psychology Association, Member of the Task Force EU grants since 2013.
Editor-in-Chief (2009-2012 of the Journal of Sport Psychology)
Associate Editor of Psychology of Sport and Exercise
Section Editor of the International Journal of Sport and Exercise Psychology (IJSEP, Section: Expertise and Information Processing Issues)
Member of the Editorial Board of the Journal "Psychology of Sport & Exercise" (PSE)
Member of Scientific Advisory Board (Journal of Sport Psychology, since 2013)