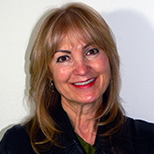 Prof. Lilly Kudic
Head of Architecture
Built Environment and Architecture / Architecture
Professor Lilly Kudic is Head of Architecture at London South Bank University (LSBU).
Lilly has extensive design studio experience at all levels of architectural education, leading Bachelors level design studios for 5 years, and Masters level design studios for 15 years. She currently co-leads postgraduate design studio Studio 23.
Lilly's students have received the RIBA President's Bronze Medals, won the RIBA Silver Medal online vote and have been commended at both RIBA Bronze and Silver level on a number of occasions. Her students' work has been exhibited worldwide, including Abu Dhabi, Australia, Azerbaijan, Bulgaria, China, Colombia, Dubai, Egypt, France, India, Lebanon, Peru, Romania, Serbia, Sri Lanka and Turkey. Graduates of her studio work in the offices of Foster + Partners, Niall McLaughlin, Wilkinson Eyre, Stanton Williams. and Zaha Hadid Architects, among many other distinguished practices.
As Head of Architecture, Lilly is responsible for:
overall programme coordination, overview of academic standards and staff-student liaison
attending all Bachelors and Masters design studio juries, coordinating S1 and S2 moderation and benchmarking design standards at all levels
appointing external examiners and coordinating external examinations
coordinating programme submissions for RIBA validation (mid term and full visits)
module coordination of Design 501, 502 and 503
appointment of all staff in Architecture Division.
Lilly is also an external examiner in Peru (Universidad Nacional d'Ingenieria) and Romania (University of Architecture and Urbanism, Ion Mincu), and an active member of both the RIBA and UNESCO-UIA validation panels, visiting schools of architecture in countries including China, Colombia, Egypt, Japan, Kazakhstan, Peru and Russia.
Lilly's teaching is centred around a strong design-based ethos, in which the student is encouraged to originate and define new strategies for architecture, and then consider the cultural, spatial, and technological means to successfully implement such projects.
Lilly's work at LSBU is summarised below:
leading change of award title from Postgraduate Diploma in Architecture to MArch: Master of Architecture 2015
leading development of MSc in Architecture and MSc Digital Architecture and Robotic Construction 2015
leading preparations for RIBA mid term visit 2015-10-25
leading Postgraduate Diploma in Architecture curricular modernisation programme 2010-12 (new module and credit structures; new module content; new design studio staffing, content, and delivery)
leading postgraduate design Studio 23
working as Design subject leader across all years of postgraduate programme
working as Technology subject leader across all 5 years of course
developing overview of current technology offer, proposing that:
- at both degree and diploma levels there is a dedicated Technology Week each semester; outputs realised as physical artefacts made in LSBU workshops
- these workshop sessions will be a mandatory part of the course for both BA3/PT5 and PGD2/PT3 students
- without limiting integration of technology in two award years (and its teaching within the studio), move a significant element of student learning of technology onto a project basis
- agree visiting lecturer programme for both BA and PGD, but with understanding that this also involves staff contributions to lectures at both levels of programme
- agree dedicated timetabling of workshops for architecture, e.g. 3 sequential weeks per semester
proposing new and revised technology modules at BA and PGD
coordinating submission and approval of these for internal validation
coordinating notification to, and approval of, course changes by RIBA
assessing outcomes of workshop sessions against learning outcomes outlined in academic modules
demonstrating more visible presence of technological understanding of our students, particularly at award levels
30 days/year: postgraduate architecture design juries (interim and final), assessment, moderation
0.5 days/week (semester 1): BA1 (Hons) Architecture lecturing, group tuition, workshop sessions, assessment
2 days/week: individual tutorials with design Studio 23 students
30 days/year: postgraduate architecture admissions, working w/Admissions Office to process new enquiries
2 days/week: in role of postgraduate course director, architecture coordinating design studio inputs and taught courses
0.5 days/week (semester 1): lectures in Technology 5 and (semester 2) studio tuition in Technology 5, mostly delivered as 1:1 tutorials
Lilly is committed to the education of students as progressive practitioners committed to an optimistic and healing programme for urban renewal. Graduates from her postgraduate studio work in the Advanced Structures division of Foster and Partners, and the offices of Niall McLaughlin, Stanton Williams, Wilkinson Eyre, and Zaha Hadid Architects, among many other distinguished practices.
Lilly's research activities include:
structure as space, progressive materiality and manufacture
architecture, structure, geometry
over 20 years of design studio teaching and research into innovative design methodology
published in AA Projects Review, Building Design, Architectural Review, Intuition and Process, Pignon sur Rue
research associate, DARLab research group examining changes in architectural production requirements resulting from introduction of digital manufacturing techniques
She has lectured or taught at many schools including the École Nationale Supérieure d'Architecture, Lyons; Leibniz Universität, Hannover; Seoul National University, South Korea; Shanghai Normal University, China, and the Welsh School of Architecture, Cardiff. Most recently, she was a guest critic at Roma Tre University, Rome during the Polyport/Polyark lll design juries.
Her design research is centred on the concept of structure as space, with emphasis on a progressive materiality. Her work has been published in Pignon sur Rue, Intuition and Process, the AA Projects Review, and the Architectural Review.
Lilly is actively involved with the RIBA, UIA, and ARB, and is an external examiner/Diploma commissioner at UAUIM, Bucharest
invited member of RIBA validation panel
- visiting boards throughout UK including the AA, the Mackintosh, University of Lincoln
- visiting boards globally including Chile, Lebanon, Peru
invited member of UNESCO-UIA validation panel
- visits to Egypt, Japan, Kazakhstan, and Russia
invited lecturer in schools of architecture throughout UK, and in China, France, Germany, Korea, and Peru including Shanghai Normal University, Shanghai, China; the École Nationale Supérieure d'Architecture, Lyons, France; Leibniz Universität, Hannover, Germany; Seoul National University, South Korea; the Welsh School of Architecture, Cardiff, Wales, and the Faculty of Architecture, Urbanism, and Arts, Lima, Peru
invited guest critic at Roma Tre University, Rome during RIBA-sponsored Polyport/Polyark lll international design juries
invited international member of Diploma Commission, University of Architecture and Urbanism Ion Mincu, Bucharest, Romania (external examination, final year students)
associate member of RIBA
advisor to Architects Registration Board re. matters of academic equivalence for graduates applying for entry to UK register of architects
coordinator of RIBA-sponsored Climate Change Roadshow event (Michael Pawlyn, Carolyn Steel etc.)
coordinator of RIBA-sponsored Design Through Production event (Peter Salter, Mike Weinstock, Manja VanderWorp, IOM3 etc.): includes soft launch for DARLab research initiative
assistant, Ian Ritchie Architects: Shoulder of Mutton housing
assistant, Ahrends Burton and Koralek:Hooke Park education buildings
partner, GKA: refurbishment of 1100 dwellings for Tabard Gardens Estate (£4m); reference library for London School of Economics (£1m); offices, shops, housing, gardens for Pimlico Housing Co-operative (£1.5m); industrial parks for Tarmac Ltd. and Metropolitan Land (£8m); restaurant and bar for Gordons (£1m); pilot projects for Virgin plc (£3m); interior design of studio and atelier, private client (Serbia, £0.5m)