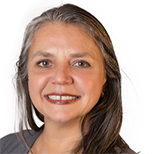 Prof. Karin S Moser
Professor of Organisational Behaviour and Director London Centre for Business and Entrepreneurship Research
Business / Management, Marketing and People
Professor Karin S Moser, PhD, SFHEA, FCMI, is Professor of Organisational Behaviour, Director of Research and Enterprise and a member of the School of Business executive team. She is also affiliated with the Centre for Career Development and Executive Education at the University of Bern, Switzerland.
Karin's research focuses on what makes people cooperate and – often more important – what hinders cooperation, namely motivational obstacles and how they interact with differences in cultural backgrounds and social norms and the use of digital technologies. With a background in psychology and computer science, Karin combines experimental approaches with textual analysis and qualitative research to understand individual decision making and information sharing in teams and organisations and how social cues and feedback influence the perception of self and others and impact on work behaviour.
Karin's research has been recognised with various awards and fellowships: the Outstanding Research Award for her PhD research (University of Zurich, 1999;, by the international academic community with the Outstanding Female Scientist Award (Academia.Net, 2012); and by experienced managers as winner of the Management Articles of the Year Award (Only a Click Away? – What Makes Virtual Meetings, Emails and Outsourcing Successful, Moser, 2013). She has also been awarded several highly competitive research fellowships (Swiss Science Foundation, the Janggen-Poehn-Foundation, Maria Goeppert-Mayer Foundation) and research grants from both industry and public funders at national and European levels.
Karin has worked internationally with numerous companies and government agencies in her areas of expertise, including Sulzer Technologies, Bosch, Swiss Post, SwissRe, ABB, British Telecom, Metropolitan Police London, NHS UK, SwissOlympics and the Federal Intelligence Service, among others, and has recently been appointed as expert with the European Asylum Support Office to advise on how to improve the information exchange and use of digital platforms between the member states. She has extensive experience in executive education and in providing customised training.
Professor Karin Moser is passionate about understanding cooperation in her research and how interactions in the workplace are influenced by digital technologies, differences in cultural backgrounds and social norms and how they might lead to biases and motivation losses. She uses theoretical approaches from various disciplines such as a Social Dilemma Framework which is based on Game Theory, Social Identity Theory from social psychology and mental models from cognitive science to understand how minimal cues and norms impact on self and other perceptions and behaviour both in experimental and real life settings.
Some of Karin Moser's recent research investigated what motivates knowledge sharing in asymmetric interactions with experts who could outperform most other team members and how they can still be motivated to contribute their expertise to the team (The Role of Feedback and Expert Status in Knowledge Sharing Dilemmas, 2017, Applied Psychology). Other recent papers show the importance of time perception in project work and how the anticipated collaboration length influences the willingness to cooperate (Collaboration Time Influences Information-Sharing at Work, together with Juliane Kaemmer, 2017, Team Performance Management) and how information sharing leads to higher team innovation if it is supported with a prosocial work climate even in the high pressure context of health care (Antecedents of Team Innovation in Health Care Teams, together with Jeremy Dawson and Michael West). Further research shows the importance of minimal cues (Putting Virtual Work into Context: Framing Effects of Status and Cultural Cues among Health Care Professionals, 2015, Academy of Management Proceedings) and social norms for collaboration in a digital work environment (Norms in Virtual Work: A Review and Agenda for Future Research, together with Carolyn Axtell, 2013, Journal of Personnel Psychology).
Her research on metaphors made award winning contributions to understand how the perception of the self is influenced by the cultural and linguistic context we live in (Metaphors of the Self: How Language, Environment and Self-Cognition Interact, Moser, 2000, 1st ed., and 2003, 2nd ed.) and was subsequently successfully applied in studies of the self and body image of transplant patients (Psychological Processing of Transplantation in Lung Recipients, Goetzmann, Irani, Moser et al., 2009, British Journal of Health Psychology) and the mental models of managers and university graduates (The Role of Metaphors in Acquiring and Transmitting Knowledge, Moser, 2004 and Metaphors as Symbolic Environment of the Self: How Self-Knowledge is Expressed Verbally, Moser, 2007, Current Research in Social Psychology).
Professor Karin Moser is a Chartered Psychologist, a Senior Fellow of the Higher Education Academy, a Fellow of the Chartered Management Institute and a full member of the Academy of Management AoM (USA), the European Association of Work and Organisational Psychology EAWOP, the European Association of Social Psychology EASP, the British Academy of Management BAM, the German Psychological Society DGPs and the Swiss Psychological Society SPS.
Professor Karin Moser is a Lead Judge for the Management Book of the Year Awards, a board member on international postgraduate and executive programmes, an external PhD examiner and supervisor and she reviews regularly for national and international science foundations and international journals. She regularly presents at international conferences and works in close relationship with businesses and public sector organisations as part of her research and in consulting.