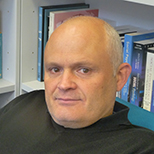 Prof. Ian Albery
Professor of Psychology; Director of Research and Enterprise for the School of Applied Sciences
Applied Sciences / Psychology
Professor Ian Albery joined LSBU from the University of Kent in 1999 and is Professor of Psychology in the Division of Psychology and Director of Research and Enterprise for the School of Applied Sciences. In general his research interests are focused on understanding individuals' health behaviours. More specifically he is interested in those cognitive and social identity processes that have been used to examine health behaviours, most particularly addictive behaviours.
BSc Psychology
Health Psychology
Psychological Research Methods 2
Psychology of Behaviour with Others
MSc Addiction Psychology and Counselling
Advanced Addiction Psychology
MSc Psychology
Professor Albery's research interests lie in the general area of social psychology and health. He is particularly interested in health beliefs and health behaviour, psychological processes and health outcomes, and illusory perceptions of invulnerability. Work concerns the study of cognitive and emotional processes involved in addiction and other health-related decision taking and behaviour.
For instance, work is underway to examine attentional biases for addiction-related stimuli in smokers and drinkers. Other work is addressing individual differences in anxiety sensitivity for attention to withdrawal related cues in smokers while other work concentrates on the myopic effects of alcohol administration on attentional processes.
This group also studies the development and maintenance of optimistic biases in health-related decision making and the role of behaviour specific self-esteem and mortality salience on such decision making.