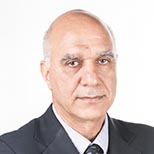 Prof. Ebad Banissi
Professor
Engineering / Computer Science and Informatics
Professor Ebad Banissi is a full research professor in the Department of Informatics at London South Bank University. He joined the University in 1994 with a PhD in Computer Graphics from Brunel University. His lecturing and research interests lie in the area of Computer Graphics and Visualisation and Analytics.
Ebad leads the Visualisation and Graphics Research Unit (VGRU) which currently has 9 doctoral research students and a number of Knowledge Transfer Partnership associates. He also coordinates the postgraduate degree dissertations within the Department of Informatics. He has been a college member of the EPSRC and is a member of the University's Research Degrees Sub-Committee, and co-chair of the Engineering, Science and Technology Sub-Committee.
Ebad is one of the original members of the Information Visualisation (IV) Forum in Europe and the Computer Graphics, Imaging and Visualisation (CGIV) Forum in Asia, and he has chaired number of international conferences. He was the one of the founding members and chair of the Information Visualisation Society. He set up the annual workshop on "PhD workshop on Computer Graphics and Visualisation". He is a member of both IEEE Computer Science and ACM SIGGRAPGH.
Ebad has been the principal investigator on a number industry-based projects, working with companies such as GMJ Design Ltd and Telent Plc. He was awarded the University Enterprise Prize in 2009. He has also been awarded funding from HEFCE Capital Investment Framework and the Science Research Investment Fund.
Ebad has more than 50 publications and given a number of invited talks. He has been on the editorial board of the Information Visualisation Journal. He is a member of the EPSERC reviewing committee. He has been external examiner to a number of national and international institutions.
Ebad's teaching interests lie in the area of Computer Graphics and Visualisation, imaging and research methods. He has designed and led a number of taught modules and established subject themes within the Department. He has made a contribution within the following specific subject areas to the degree programmes within the Department: Research and Investigative Methods, Computer Animation, Computer Graphics, Computer Visualisation, and Forensic Digital Imaging and general computing, including both software and hardware.
Ebad's primary research interest currently is in the area of Information Visualisation and Visual Analytics, including:
Information Visualisation Theory & Practice
Glyphs: Shapes, Icons, Text and Imagery in Visualization
Analytics – Visual, Social media analytics, GeoVisual
Knowledge Visualization and Visual Thinking
Visualisation in Business Intelligence and Open Data
Knowledge Domain Visualisation
Research Methodology
Another research focus is the Fundamentals of Computer Visualisation, Graphics, in particular Rendering Algorithms and their application:
Conic section
Conic Spline
Antialiasing
Image domain interchange – spatial, tonal and temporal -
Ebad also undertakes applied research in the areas of 3D space design and 3D stereoscopy and Imaging.
Current Doctoral Research Projects:
Visual clustering analysis of large dynamic graphs
Time-oriented VisualAnalytics
Holistic framework for IS/IT management & architecture using a visual analytic approach
Information visualization using shape and font: foundations, definitions, techniques, guidelines and applications
A Framework for serious games in health - Task Technology Fit and Unified Theory of Acceptance (Usage of Technology) adaptation to SG in health
3D Stereoscope compression techniques
3D Stereoscope depth definition as function of image and temporal attributes
Visual analytics for cyberdefence & security awareness - The integration and role of visual analytics and modern business methods and behaviour factors in information assurance operation
Member IEEE Computer Science
Member of ACM
Founding Member & first chairman of the Information Visualisation Society
Founding Member of the Information Visualisation Forum
External Examinerships:
2013 - External Examiner to PhD thesis - University of the Punjab - Pakistan
2013 - External Examiner to PhD thesis - University of Technology Sydney - Australia
2008-2013 - The Department of Computing and Information Systems, University of Bedfordshire
2011-2012 - The Department of Computing and Information Systems, University of Bedfordshire for Post Graduate studies
2010 - External Examiner to PhD thesis, Central Queensland University - Australia
2008-2010 - Department of computing, Goldsmiths, University of London, MSc degree
2009 - External Examiner to PhD thesis - University of the Punjab - Pakistan
2006 - External Examiner to PhD thesis - University of Delhi - India
2006 - External Examiner to PhD thesis - University of Kent - UK
2003-2007 - The University of Greenwich for Information Systems and Multimedia Programme
2005 - External Examiner to MPhil/PhD thesis - University of Surrey - UK
2005 - External Examiner to PhD thesis - University of Delhi - India
External Referee/Moderator:
2013 - External Assessor for Funded projects for King Fahd University of Petroleum and Minerals, KFUPM, Saudi Arabia
2013 - External Assessor for Cara - Council for Assisting Refugee Academic
2012 - External Assessor for Department of Computer Science at Louisiana State University in Shreveport, USA
2012 - External Assessor for Plymouth University
2012 - External Assessor for Universiti Saint Malaysia (Penang, Malaysia)
2011 - External Assessor for Department of Computer Science at Louisiana State University in Shreveport, USA
2010 - External Assessor for funded projects for King Fahd University of Petroleum and Minerals, KFUPM, Saudi Arabia
2010- External Assessor for School of Engineering and Technology, IUPUI, USA
2004-2008 - Refereed Fellowship proposal for EPSRC
2006 - External Assessor for King Fahd University of Petroleum and Minerals, KFUPM, Saudi Arabia
2004 - External Reviewer for IEEE Transaction on Visualisation & Computer Graphics
2004 - External Reviewer Information Visualisation Journal
Editorships:
2001-2010 - Editorial Board of Information Visualization Journal
2002 - Editorial board of Journal of Digital Information Management
Consultancy:
Doctoral Research Workshop
Research Project Evaluation
Research Degree Examiner
Research Methodology
Information Visualisation
Visual Analytics
3D Graphics & Design