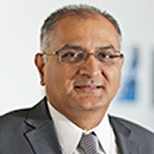 Prof. Dilip Patel
Visiting Professor
Engineering / Computer Science and Informatics
Dilip's specialist areas include:
Information system
Information assurance
Knowledge transfer
Higher education policy
He has a wide range of research, teaching and consultancy experience in the areas of information management and modelling, data mining, knowledge management, ontologies, social aspects of computing and key performance indicators.
Dilip has published extensively in journals, book chapters and conference proceedings. In addition he has edited special issues of journals and conference proceedings.
He was an editorial advisory board member for the book Model-Driven Domain Analysis and Software Development: Architectures and Functions published by IGI Global in 2010.
Dilip is also an international associate editor for the International Journal of Information Technology and Web Engineering and an editorial board member for The International Journal of Cognitive Informatics and Natural Intelligence.
As a subject specialist reviewer in computing, he has undertaken subject reviews for the UK Quality Assurance Agency in HE and United Nations (UN) funded Quality Assurance initiatives in the Middle East. He has secured funding for and worked on many research projects funded by the European Union, DTI and industry.
Dilip has successfully supervised and examined PhD Students nationally and internationally and has served on numerous programme committees and organised various international conferences.