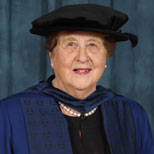 Prof. Diana Kloss MBE
Honorary Fellowship
Professor Diana Kloss MBE is one of the country's leading authorities on occupational health. An academic, barrister, author and government adviser, her career has spanned more than 50 years. Now at an age when most people would have long since retired, she is showing no signs of slowing down. .
Diana Kloss graduated from King's College London with a first-class degree in law. She won a Fulbright Scholarship to Tulane University in New Orleans, where she wrote her master's thesis on comparative law. Back in the UK, she took up what was billed as a temporary job as a lecturer at Manchester University. She is still teaching there today.
Professionally, Diana's main focus has been on disability discrimination and occupational health. For her, the interest lies in the overlap between the worlds of work and medicine, and in the potential for conflicts of interest. 'I'm interested in the rights of both workers and employers,' she says. 'Occupational health professionals can sometimes find themselves in a very difficult position.'
In 1989, she published the first edition of 'Occupational Health Law', which remains the standard reference work on the subject. Known as the Bible for anyone involved in occupational health, it is now in its 5th edition, with a 6thon the way.
It was around this time too that Diana made the move to combine her academic work with a role as a practising lawyer. Although she had qualified as a barrister earlier on, she did not go into practice until the age of 50. 'I was the oldest pupil on the northern circuit,' she says. 'I remember going into court one day and realising that not only had I taught the QC on the other side, I'd taught the judge too!'
Within a few years, she had been appointed a part-time judge in the employment tribunal, a post she held for 17 years. At the same time, she continued to teach part-time, while her growing expertise and influence led to increasing demand for her services as an adviser at the highest level.
She has sat on a number of government committees, including the Expert Advisory Group on AIDS, the CJD Incidents Committee and the Industrial Injuries Advisory Council. She has also advised several police forces, local authorities, NHS Trusts and large companies on issues of occupational health law, and is an ACAS arbitrator.
In 2010, she was appointed chair of the Council for Work and Health, which was set up in the wake of Dame Carol Black's report demonstrating the link between work and physical and mental well-being. Among the report's recommendations were that occupational health professionals work more closely together. The Council's role is to support the various disciplines in collaborating with each other, to respond to government policies and to advise on fresh initiatives such as the introduction of the new fit note and the Health and Work Service.
Since 2011, she has been a visiting professor here at LSBU, teaching law to students on occupational health nursing courses. She is a director of Syngentis, a not-for-profit company supporting NHS occupational health services with research and advice.
She is a trustee of the Manchester Settlement, a charity established in 1895 which provides a range of services to the community in Ancoats, a deprived part of east Manchester, and a governor of Manchester School for Girls. In what one can only imagine must be her VERY limited free time, she enjoys travelling, gardening, music and theatre, and spending time with her two grandchildren.
Diana Kloss has been elected an Honorary Fellow of the Faculty of Occupational Medicine of the Royal College of Physicians and an honorary life member of the Society of Occupational Medicine. In 2009 she was appointed MBE for services to occupational health. Now, Pro Chancellor, in recognition of her outstanding contribution to occupational health law, I present her to you for the award of Honorary Fellowship.