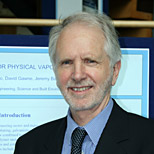 Prof. David Gawne
Visiting Professor of Engineering Materials
Engineering / Mechanical Engineering and Design
David obtained a BSc and PhD in materials science and engineering at Liverpool University. He then worked at the British Steel Research Centre as Principal Research Officer before moving to Brunel University as Reader in Materials Engineering. He is a former Chairman of the Industrial and Technical Committee of the Institute of Materials Finishing.
Materials Science and Engineering.
His work is directed at undertaking research to create and characterise new materials and coatings. Much of the work focuses on understanding and modelling the mechanisms of deposition and materials formation together with their relationship with structure and properties. This includes materials and process modelling to design new materials, process equipment and hybrid technologies. Equipment available includes robotically controlled plasma spraying, specialised combustion spray units, high-energy infrared, sol-gel processing, property evaluation techniques, nanoindentation and microstructural characterisation facilities.
FIMMM, FIMechE, FIMF, C Eng.
Member of EPSRC Peer Review College.