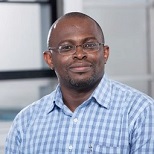 Prof. Chika Udeaja
Lecturer
Built Environment and Architecture / Construction, Property and Surveying
Professor Chika Udeaja is a professor of project management and construction at LSBU.
Prior to joining the School, he was the programme director for the construction project management at the University of Salford.
Over the years, he has contributed to a number of scientific and academic committees. For example, as a committee member of ARCOM, he has been instrumental in facilitating doctoral workshops in order to promote/disseminate construction management research globally.
His research interests cover technology, people and process related aspects of the project management including how organisations manage information/knowledge and support decision making in a project environment.
Member of Chartered Institute of Building
Prof. Chika Udeaja has significant engagement with industry as part of various initiatives to strengthen the link with industry and for professional development.
His external engagement involves fostering relationships with the key external partners and professional organisations such as the Chartered Institute of Building (CIOB) and the Association of Researchers in Construction Management (ARCOM) to elevate the profile of the school.
He joined ARCOM in 1998 and became an elected committee member in 2009. As a committee member, he contributes to organising the annual ARCOM conferences, and as workshops convenor, he organises the national and international doctoral workshops.