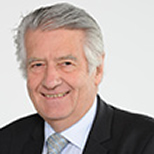 Prof. Bruce Lloyd
Emeritus Professor in Strategic Management
Business / Management, Marketing and People
Prof. Bruce Lloyd's specialist areas include:
Strategic Management
Organisational Development
Knowledge Management
He spent over 20 years in industry and finance before joining the academic world 20 years ago to help establish the Management Centre at what is now London South Bank University.
He has a degree in Chemical Engineering, an MSc (Economics) / MBA from the London Business School, and a PhD (by published work) for his work on 'The Futures of Offices and Office Work: Implications for Organisational Strategy'.
Since the late 1960s Bruce has written extensively (about 200 published articles) on a wide range of strategy and futures-related issues, including articles exploring the link between leadership, wisdom, knowledge management and organisational performance.
He was also the UK co-ordinator for 'The Millennium Project' 1999-2005 and has been active in the 'futures industry' since he first wrote a pamphlet on 'UK Energy Policy' in the 1960s.