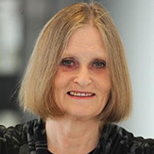 Prof. Bridget Shield MBE
Emeritus Professor of Acoustics; Visiting Professor
Built Environment and Architecture / Civil and Building Services Engineering
Professor Bridget Shield was Professor of Acoustics in the School of The Built Environment and Architecture at London South Bank University. She retired from the University in May 2014 and was honoured with the title Emeritus Professor.
She obtained a BSc and MSc in Pure Mathematics at the University in Birmingham, before studying for a PhD on the prediction of noise levels in factories. She was appointed as a lecturer at South Bank Polytechnic in 1986, since when she has been active in teaching, research and consultancy in environmental and architectural acoustics.
She was course director of the MSc in Environmental and Architectural acoustics for many years and has received many government research grants and is the author of around 150 published papers. Her research interests have included prediction of industrial noise, community response to railway noise, concert hall acoustics, annoyance caused by low frequency noise and hospital noise and acoustics. For the past fifteen years her research has focused on the effects of noise and poor acoustics on children and teachers in primary and secondary schools.
In 2003 Professor Shield was appointed by the Department for Education and Skills as editor of Building Bulletin 93 (BB93) which contains the acoustic performance specifications for schools required under the Building Regulations of England and Wales. She is currently a member of the BB93 review panel.
She was an author of the UK Department of Health report on the effects of environmental noise on health, published in 2010. Professor Shield was elected an Honorary Fellow of the UK Institute of Acoustics in 2007, and was awarded the R W B Stephens medal by the Institute in 2011. In 2011 she also received the John Connell Lifetime Achievement Award from the Noise Abatement Society.
Professor Shield has been active for many years in the UK Institute of Acoustics of which she is currently President (2012-2014). She is also a member of the British Society of Audiology and of the Acoustical Society of America.
In June 2021, Prof. Shield was awarded an MBE in the Queen's Birthday Honours for her "services to Acoustic Science and to inclusion in Science and Engineering."
Professor Bridget Shield's specialist areas include:
Acoustics
Noise in classrooms
Hospital acoustics
Bridget Shield's research has focused on the effects of noise (including industrial noise, low frequency noise, railway noise, music) on people.
For the past 15 years her main research area has been investigating the effects of noise and acoustic design on pupils and teachers in primary and secondary schools. This research has been carried out in collaboration with Professor Julie Dockrell of the Institute of Education, supported by grants from the Department of Health, Defra and EPSRC. It has shown that both external and internal noise at school have detrimental effects upon pupils' learning and academic performance, cause annoyance and affect concentration, and can cause voice problems among teachers.
The research has informed the 2003 Building Regulations (and their 2013 revision) on the acoustic design of schools. Currently Professor Shield is supervising PhD projects on speech intelligibility and teachers' vocal health. Another research area was the acoustic design of hospital wards and its effects on patients and nursing staff, in collaboration with the Medical Architecture Research Unit and supported by EPSRC and Arup Global Health Care.
Bridget has also carried out personal research into the history of the acoustic design of the Royal Festival Hall, and into the economic and social effects of hearing loss. She acts as a reviewer for the major acoustics journals, and has been external examiner of PhDs at many UK universities.
Institute of Acoustics (IOA)
Professor Shield is currently President of the Institute of Acoustics (2012 to 2014). She was elected a Fellow of the IOA in 1998 and an Honorary Fellow in 2006. In 2011 she was awarded the IOA R W B Stephens medal.
Other IOA activities
Vice President (International) (2007 - 2010)
Member of Council 1996 (2005, 2007- present)
Member of committee of London branch (1997 - 2003)
Member of IOA Education committee (1997 - 2002)
Member of IOA Bulletin Management Board (1998 - 2000)
Secretary of IOA Publications committee (1999 - 2001)
Member of Library Working Group (2000 - 2002)
Member of IOA Publications committee (2002 - 2005)
Responsible for setting up National Acoustics Archive at University of Southampton
Organiser of joint IOA/Belgian Acoustical Society meeting on Noise in the Built environment, Ghent, Belgium (April 2010)
Scientific organiser and chair of organising committee for 19th International Congress on Biological Effects of Noise (ICBEN)
Other organisations
Professor Shield is a member of the British Society of Audiology and the Acoustical Society of America.
Awards
Noise Abatement Society: Awarded John Connell Lifetime Achievement Award 2011
Association of Noise Consultants (ANC): Invited to be chair of judges of awards 2013
Local authorities: Adviser to the Greater London Authority on the development of the London noise strategy (2001 - 2003); member of the Noise Strategy advisory panel for Westminster City Council
Department of Health: Member of Ad hoc committee on health effects of environmental noise (2004-2010); Joint author of Health Protection Agency report on Environmental Noise and Health, published 2010
Department of Education: Chair of panel drafting Building Regulations/Building Bulletin 93 on acoustic design of schools (2001 - 2003); Editor of Building Bulletin 93 (2003); Member of Building Regulations/Building Bulletin 93 review panel (2008-2013); Chair of IOA/Association of Noise Consultants group writing guidance document on acoustic design of schools (2012-2013)
TV and radio appearances
BBC2 documentary on Royal Festival Hall, shown May 13 2001
Robert Elmes Show on Royal Festival Hall, LBC, May 2001
BBC1 national news re classroom acoustics research, 22 April 2002
Radio interviews on classroom acoustics research (LBC, Radio 5 Live, BBC London, BFBS 1, BFBS 2), 22 April 2002
Radio 4 Acoustic Shadows' programme September 14 2004
BBC2 See Hear' programme on school acoustics, September 2009
Video on urban noise on BBC website March 2013
Major consultancy work
Expert witness evidence: House of Lords Select Committee on Docklands Light Railway (Beckton extension) Bill, 1989; public inquiry on City of London Heliport, 1990; House of Commons Select Committee on Channel Tunnel Rail Link, 1997
Author of report on socio/economic costs of hearing impairment for Hear-It, 2003-5
Author of report on acoustics of offices for Association of Interior Specialists, 2009