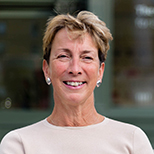 Prof. Becky Malby
Professor of Health Systems Innovation
Rebecca Malby (Becky) is a Professor in Health Systems Innovation at London South Bank University, where she leads the Health Systems Innovation Lab, providing change management support to systems change work; leadership programmes for emerging leaders, network leaders and citizen leaders; the London Primary Care Quality Academies; and catalysing spread through an international network. She has a track record in systems innovation, organisational change and leadership development in the UK and Internationally, and in leading networks. Her experience is an unusual combination of leader, manager, researcher, change agent and entrepreneur. She is known to be an energetic and enthusiastic leader of change and a forward thinker.

She is currently on the Advisory Board of The Bromley By Bow Unleashing Health Communities Programme, the Scaling up Shared Lives in Healthcare Programme Implementation Group, the Health Foundation Shared Haemodialysis Care Programme, and the European Cancer Concord, The Health Foundation Q Evaluation and Kaleidoscope Health & Care. Becky is a nominator for the Ashoka network.

Most recently Becky was the Director of the Centre for Innovation in Health Management at the University of Leeds where she also took a leadership role in the Leeds Institute for Quality Healthcare. Whilst in Leeds Becky was a founding member of the Leaders for Leeds Network with the Local Authority. She has recently been an advisor to the Cabinet Office on the Choice Agenda, a Board Member of the European Health Management Association, an Advisor to the NHSIQ Network Leaders Programme, and a critical friend of the New Economics Foundation Coproduction Network. She has worked across health and local government supporting place-based collaboratives.

Becky is a Visiting Fellow at Stellenbosch University School of Public Leadership (South Africa) where she supports the Innovation Hub

She has recently published Malby B, Anderson Wallace M. 2016. Networks in Healthcare. Managing Complex Relationships. Emerald.
Becky blogs on her WordPress site on coproduction, systems leadership and innovation.
Twitter: @BeckyMalby
Alongside formal teaching, Becky's experience lies primarily in bespoke leadership development for senior clinicians and managers in health and social care.
Becky has developed and run clinical and systems leadership programmes for Clinical Commissioning Groups, Health and Social Care Economies, Regional Tiers, Leadership Academies and Trusts of contracts between £50,000 and £800,000 over a 10 year period. She has made sustained impact for every contract, notably previously the London Darzi Fellows Programme for 5 years, and the Leeds Medical.
Becky previously set up a new MA in leadership at the University of Leeds, and is currently establishing the PGCert in Co-producing Health here at LSBU.
Current research interests
Networks for innovation in Health and Social Care
Process and impact of Co-production in Health and Social Care
Previous research
COST Action, 'Management and Medicine in European health systems: implications for control, innovation and user voice'.
Three Knowledge Transfer Partnerships with the NHS and industry on Clinical leadership, and co-production
Three National Inquiries: Management and Medicine; Fit for purpose governance in the NHS; Ethical Organisational Decision-Making in the NHS
N8 Research Partnership programme grant: Co-Investigator, Co-producing Spaces: Leeds City Lab
Advisor to the NHS IQ Network Programme
Advisor to the Kings Fund/Health Foundation Readiness for Change Programme
Non-Executive Director for the Spectrum Community Healthcare CIC
Director for incLucid – social enterprise supporting people in recovery
Visiting Associate with the Stellenbosch University School of Public Leadership
Nominator for the Ashoka network
Becky has worked with health and social care systems to secure sustained new models of care for the past 15 years. She lead the only city-wide Co-production Programme in the UK for drug and alcohol services. She also established (with the health and social care system in Leeds), and managed, The Leeds Institute for Quality Healthcare.
Becky provided a number of successful international and local learning journeys to Intermountain Healthcare and Rocky Mountain Health (on Accountable Care Organisations; and data-driven clinical effectiveness), to the Netherlands (on integration, self-managing teams and digital support for clinical decision-making), to South Africa (on community development and leading through diversity), to Asia (on innovation), and to innovators in the UK in the third, public and social enterprise sectors.
She has particular experience in clinical leadership for change, providing development programmes with CCGs, Trusts, and health economies for new consultants, clinical directors, medical and nurse directors, and clinicians working across a service user's journey.
At LSBU, Becky is setting up the Next Generation Health Systems Innovation Lab, a network designed to enable spread of great innovations in health and social care, working with partners in the UK and internationally.