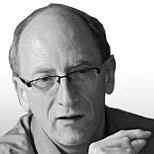 Prof. Andy Ford
Professor of Building Systems Engineering
Built Environment and Architecture / Civil and Building Services Engineering
Andy graduated as a mechanical engineer after he was sponsored through his degree by RA Lister, a diesel engine manufacturer in rural Gloucestershire. Upon graduating, he moved to London and joined Max Fordham and Partners a highly regarded Building Services engineering practice in London with an unusual democratic structure and became a partner.
In 1983 at the age of 30 he left to establish his own consulting practice 'Fulcrum Consulting' which became famed for advanced integrated low energy building design and sustainable master planning. The practice has won many industry awards. Whilst the buildings he collaborated on have won architectural acclaim. Fulcrum as a practice continued independently for 25 years and grew to 150 staff before becoming part of Mott MacDonald in 2008.
Andy's involvement with the future direction of the industry has grown over the years. Fulcrum proactively lead the industry debate around sustainability and were founding members of the UKGBC. Andy was the Technical and Policy Chair for the first 3 years of operation and remains a UK Green Building council Ambassador. He has had a long interest in research, innovation and knowledge transfer working as a research manager in DTI Partners in Innovation program and serving on the Modern Built Environment Knowledge Transfer Network steering group since its foundation. He was awarded the IMechE Built Environment Prize in 2008 and an honorary doctorate by Herriot Watt University in 2012.
Andy believes in collaborative design and engineering as a creative process. As Professor of Systems Engineering he teaches holistic solutions to problem solving.
His research interests are around the challenges and opportunities presented by the need to decarbonise our energy supply and create an enjoyable and liveable built environment through zero carbon new building and radically improving our existing building stock.
Andy is Director of the Centre for Efficient and Renewable Energy in Buildings (CEREB).
CEng, Fellow and Past President of CIBSE (Chartered Institution of Building Services Engineers)
As President, Andy lead CIBSE 2011 -2012 with four calls to the Industry to respond to the extraordinary challenge faced by society to decarbonise our cities and deal with the challenge of climate change.
A call to young people to come into the industry
A call for mutual respect
A call to create a continuous cycle of action
A call to widen our membership
He currently chairs the CIBSE Diversity group and Knowledge Program sub Committee
Vice Chair of the CIC diversity panel
Member of the Airship Association