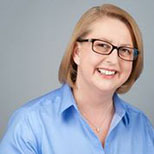 Prof. Alison Leary
Chair of Healthcare & Workforce Modelling
Health and Social Care / Primary and Social Care
Prof. Leary primarily undertakes research but also teaches on a range of post graduate programmes including the Masters in Advanced Practice. She also runs masterclassess for those in practice and supervises post graduate research students at LSBU. Her interests are in the complexity of healthcare, math models and data science.
After spending ten years in science Prof. Leary undertook an RN diploma at The Nightingale School at St Thomas Hospital (now Kings College London). She attained a Masters in Biomedical Science (Haematology) and worked in acute Haematology services. Prof. Leary obtained a PhD in Clinical Medicine from the University of London (Royal Free & University College School of Medicine).
Prof. Leary writes regularly for the general, trade and academic press. In 2015 she was made a Fellow of the Royal College of Nursing and in 2016 a Fellow of the Queen Nursing Institute and a Winston Churchill Fellow for which she examined high reliability organisations looking at safety.
In recent years she has undertaken various projects around the modelling of complex systems in both the public and private sector and has a particular interest in the work of specialist practice and its value. She undertakes research & consultancy in this area-she also provides a service as an expert witness.
Prof. Leary teaches on the MSc in Advanced Practice and the aspiring director's programme. She also runs masterclasses and supervises at Postgraduate level (Professional doctorates and PhD).
Research into complexity & healthcare
Knowledge discovery through data mining (big data)
Stochastic methods & workforce modelling
Prof Leary conducts research in the public sector, NHS & for commercial organisations.
Fellow Queens Nursing Institute
Fellow Royal College of Nursing
Senior Fellow Higher Education Academy
Visiting Professor Canterbury Christchurch University
Macmillan Alumni
Women in Football
HSJ Senior women's network
TEDx Whitehall Women's group
Fellow Royal Society of Medicine
NMC registration
Scheme director & member, British Association of Immediate Care
Non-executive director National Lung Cancer Forum for Nurses
RCN Foundation (Reg Charity) Trustee
Editorial board member/reviewer
Clinical lead match day medical service Millwall FC
Judging panels (Nursing Times Awards, HSJ Awards)