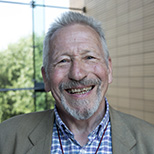 Peter Maple
Lecturer, Charity Management
Business / Management, Marketing and People
After twenty years as a successful fundraiser, fundraising manager and fundraising director in a variety of charities including the YMCA, Arthritis Care, Leonard Cheshire Disability, Brooke Hospital and Crisis UK, Peter Maple entered academia in 2006 teaching fundraising on the postgraduate programmes, as well as researching the nature of philanthropy.
Peter's prime interests are Fundraising in charities and Social Marketing for social enterprises and other not for profit organisations.
He also teaches Corporate Social Responsibility and Cause Related Marketing together with Social Marketing for the MSc Marketing Communications course, and for third year undergraduate Marketing students he is part of the core teaching team for Contemporary Marketing Issues.
He currently supervises Masters students, completing dissertations researching various aspects of charitable fundraising and fundraising management.
During the last six years at LSBU, Peter was lead on a number of successful projects including:
Marketing Research (2009) - project conducted for Southbank Mosaics (Social Enterprise) funded as a Knowledge Transfer Partnership.
Social Impact Research (2010-12) - currently project manager for a longitudinal study of the social impact of art intervention project (lead on development of a successful IGA)
Charitable gifts in legacies - leading a current research project to monitor changes and trends in the legacy development arena.
He is also in the fourth year of a part-time PhD at LSBU examining the Nature of Philanthropy. This follows the successful completion of a Research Opportunities Fund project in July 2009 with a dissertation seminar at LSBU for 100 charity senior personnel. The research looked at the treatment of major givers by UK charities and was extremely well received by sector leaders and favourably reviewed in Sector Press (Professional Fundraising and Third Sector).
Member (Diploma status) Institute of Fundraising
Member Chartered Institute of Marketing
Member Voluntary Sector Studies Network
Peter is currently Chair of the Special Interest Groups and a trustee of the Institute of Fundraising and a member of the fundraising board for RNIB. Previously a trustee of Working Families, Cranfield Trust, Hillcroft College.
Participating mentee in the Institute of fundraising scheme.