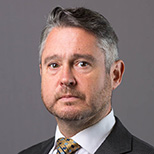 Paul Wynell-Sutherland
Undergraduate Law Combined Degree Programmes Director of Studies
Law and Social Sciences / Law
Paul Wynell-Sutherland is a Senior Lecturer and Barrister in the Law Division, where he leads two elective subjects, Criminal Litigation and Regulatory Principles of Entertainment & Media (the latter he co-leads with colleague Kim Silver). Paul is also the Director of Mooting and oversees the legal mooting programme and legal competitions at LSBU. Furthermore he is the Admissions Tutor responsible for the Post-Graduate Diploma in Law.
He is an experienced lecturer and barrister who previously taught with both Southampton and Southampton Solent Universities along with extensive practice at the Bar. Prior to his time at the Bar, he served in the Armed Forces as Lieutenant in the Royal Navy.
Paul holds a B.Eng from the Royal Naval Engineering College, Manadon, an accelerated LLB from Southampton University and a post graduate Bar Vocational Course from BPP Law School.
At LSBU, Paul currently teaches in the following academic subject areas:
Criminal Law, Criminal Litigation and Regulatory Principles of Entertainment & Media Law along with supervision of LLB and LLM project students.
He also forms part of the Clinical Education Legal Team where he supervises students at both the LSBU Legal Advice Clinic and the Lambeth County Court Helpdesk
Paul is a member of the Armed Forces Covenant Working Group which promotes all aspects of the Armed Forces within LSBU as an armed forces friendly organisation. He also leads the Armed Forces Covenant Steering sub-group for mentors and open days to support current students and applicants to LSBU.
He contributes academic feedback to Oxford University Press on various publications, including Blackstone's Criminal Practice and English Public Law.
He is also interested in the impact of clinical education, particularly mooting, upon teaching, learning and progression.
Member of the Honourable Society of the Inner Temple
Member of the General Council of the Bar
External Examiner for Nottingham Trent University.