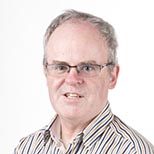 Paul Carden
Senior Lecturer and Outreach Lead
Engineering / Computer Science and Informatics
Paul Carden is a Senior Lecturer in the Department of Informatics. His interests are in computer networking, managing mobile technologies and the design and development of mobile apps. He is the pathway leader for Computer Systems Management, and a first year personal tutor. His membership of committees includes the Faculty Learning & Teaching Committee and the Faculty IT User Group. As well as supervising post-graduate and undergraduate dissertations, Paul is studying for a Doctorate of Education (EdD) - the Student Learning Experience of the software engineering student. Previous research has been in the area of equality and diversity within online contexts. Paul has completed the CLTHE and PGCHE certificates for teaching in higher education. Paul is also a Fellow of the HE Academy.
Paul is module leader for the following modules:
Network Communications Software
IT Infrastructure Management
IT System Administration
Network Configuration and Management
Managing Mobile Technologies
He is part of the teaching team for:
Software Development for Business
Carden P. (2007) The LAMS design for diversity, leadership, followership and awareness. In Cameron, L., Voerman, A. and Dalziel, J. (Eds), Proceedings of the 2007 European LAMS Conference: Designing the future of learning (pp 50-64). 5 July, 2007, Greenwich: LAMS Foundation. http://lamsfoundation.org/lams2007/papers.htm
Carden P. (2010) Cutting Wedge or Cutting Edge? - Embedding E-Learning For Engagement, in proceedings of 11th annual HEA ICS conference, HEA ICS, Durham.
Paul is an associate member of The Chartered Institute for IT.
Paul has been involved in knowledge transfer partnerships, external consultancy on web applications and equality and diversity and advised on a web solution for London Metropolitan Police.