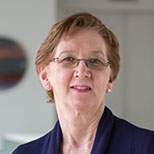 Noreen Sinclair
Director of Education and Student Experience
Health and Social Care / Allied Health Sciences
Since 1993, when she came to LSBU from the Radiotherapy Education Centre based at St Thomas' Hospital, Noreen has been instrumental in developing a number of undergraduate and postgraduate courses delivered in Allied Health Sciences. Noreen has been course director for many of these, and over time has developed a special interest in academic processes and regulatory frameworks that help to support both students and staff.
In her cross-School role, Noreen's specific remit is to develop and manage systems to support student progression and achievement. Noreen's knowledge about academic processes, assessment and regulations has grown through membership of various management groups across the University and School. Noreen is currently a member of the School Academic Standards committee and chairs the School assessment working group that helps to develop new strands of activity to improve the student experience. She provides leadership and guidance to all staff within the School in relation to academic regulations and processes, chairing pre and post-registration Examination Boards. At University level, Noreen chairs Validation panels and the External Examiner working group, she is a member of the Academic Regulations working group and until 2016 was a member of the University Quality Standards Committees.
Her professional background is as a Therapeutic Radiographer, qualifying with Diploma of the College of Radiographers (Radiotherapy) in 1973. In 1978 she gained the Higher Diploma and Teachers Diploma of the College of Radiographers and Further Adult Education Teachers Certificate. In 1991 she graduated with a BSc (Hons) Applied Radiography and in 1996, an MA in Health Care Ethics from London University.
Noreen's academic interests are varied but she is particularly interested in oncology, radiobiology and radiation sciences. In the pre-registration programmes she contributes to therapeutic and diagnostic radiography modules.
She leads the post-registration Radiotherapy Patient On-treatment review module, a work-based module that enables practising therapeutic radiographers to further develop their careers. She has supervised undergraduate and postgraduate students undertaking research, with a preference for qualitative research.
Noreen was involved in a research study in collaboration with Guy's and St Thomas' NHS Foundation Trust: Determining the value of the Coaching and Mentoring Programme within Guy's and St Thomas' NHS Foundation Trust, 2014-15.
Noreen is a registered with the Health and Care Professions Council, is a life member of the Society and College of Radiographers and became a Senior Fellow of the Higher Education Academy in 2015.
Noreen's professional activities include membership of the Society and College of Radiographers Radiotherapy Advisory Group (RTAG), of which she was a founder member and instrumental in developing the Education and Training Strategy that has helped to shape the profession of therapeutic radiography. She was chair of the College of Radiographers Board of Trustees for seven years until 2010, and as an assessor for the Approval and Education Board of the College of Radiographers since 2004, she has been involved in the validation of professional programmes at a number of other HEIs.

She is on the editorial board of the Journal of Radiotherapy in Practice and is a reviewer for Radiography, the Society and College of Radiographer's journal. In 2012, Noreen was awarded the Fellowship of the College of Radiographers in recognition of her service to the profession.