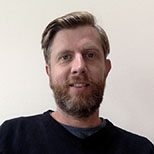 Nick McCubbin
Lecturer
Applied Sciences / Psychology
Nick is a Lecturer in Psychology in the Division of Psychology, School of Applied Sciences. Alongside his work at London South Bank University, Nick is the co-founder and Senior Psychotherapist at his own private practice. He has over 10 years' experience working therapeutically.
Nick began his therapeutic career as an Arts Psychotherapist (Drama), having completed an MA in Drama and Movement Therapy at the Central School of Speech and Drama. He went on to work with a range of client groups, but with a particular focus on young people with emotional and behavioural difficulties and at risk of offending.
After several years in this area he wanted to expand his psychological knowledge and undertook a Post Graduate Diploma in Psychology. To build on this, Nick undertook postgraduate studies in Counselling Psychology and, after completing these studies, became an HCPC Registered Practitioner Psychologist. During this training he studied a range of therapeutic approaches including Cognitive Behavioural Therapy, Person-Centred Therapy, Humanistic Approaches, and Psychodynamic Psychotherapy. Nick's clinical work took place in settings such as GP surgeries, Community Mental Health Teams, Child and Adolescent Mental Health Teams, and schools and colleges.
Towards the end of his Counselling Psychology training, Nick developed a particular interest in addictions and undertook a voluntary placement in an Alcohol and Drug treatment centre in North West London. This led to permanent employment and Nick worked there delivering both individual and group therapeutic interventions.
Having completed training and worked for a while within the charity sector Nick went on to set up his own private psychotherapy practice in Shoreditch, East London and continues to be a Senior Therapist there.
Nick is a Health and Care Professions Council (HCPC) Registered Practitioner Psychologist and a British Association for Counselling and Psychotherapy (BACP) Registered Psychotherapist.
BSc Psychological Counselling
Counselling Skills 1
Counselling Skills 2
BSc Psychology
Counselling Psychology and Psychotherapy
Introducing Real World Psychology
Psychology of Mental Health and Distress
MSc Addiction Psychology and Counselling
Advanced Addiction Psychology
Advanced Theory and Practice in Therapeutic Counselling
Professional Practice in Addiction Counselling
Theoretical Foundations of Addiction Counselling and Psychology
Therapeutic Counselling Theory and Practice
MSc Mental Health and Clinical Psychology
Exploring Mental Health and Distress
Psychosocial Interventions
Member, British Psychological Society and BPS Division of Forensic Psychology
Full member, Eurogang Network and British Federation of Women Graduates