Musharrat Ahmed-Landeryou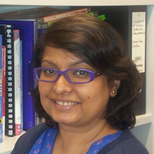 Musharrat Ahmed-Landeryou
Senior Lecturer - Occupational Therapy
Health and Social Care / Allied Health Sciences
Musharrat Ahmed-Landeryou started her career by studying a Physics and Medical Applications degree and then completed a Bsc (Hons) in Occupational Therapy. She also has a Licentiate in Traditional Chinese Medicine Acupuncture, and was able to use this while working as part of an acute neurorehabilitation within the NHS. Musharrat has 10 years combined practice experience within both the NHS and private sector. Within her private referrals, Musharrat worked more specifically in neurorehabilitation.
Musharrat has been working as a Senior Lecturer in Occupational Therapy at LSBU for 10 years and completed an MSc in Clinical Neurosciences in 2008. She has contributed to the academic community and has published academic articles which are narrative reviews on neurophysiology.
Musharrat Ahmed-Landeryou teaches Occupational Therapy at LSBU in the subject areas of theory, principles and processes. Musharrat is particularly interested in the application of activity-based therapy to improve physical function within the specialism of neurorehabilitiation and the sustainability and resilience of occupational therapy in the current changing climate of health and social care, through economic evaluation and systems thinking.
Research interests:
Systems thinking and motivational drivers for staff in education and occupational therapy teams in the public sector
Economic evaluation and occupational therapy services