Musharrat Ahmed-Landeryou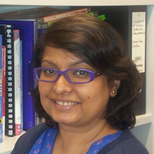 Musharrat Ahmed-Landeryou
Senior Lecturer - Occupational Therapy
Health and Social Care / Allied Health Sciences
Musharrat Ahmed-Landeryou is a Senior Lecturer in Occupational Therapy in the Department of Allied Health Sciences in the School of Health and Social Care, at LSBU, since 2002. She completed an MSc in Clinical Neurosciences with distinction in 2008. Musharrat also takes opportunities to teach and work with colleagues collaboratively across the School of Health and Social Care. She has contributed to the academic community through webinar contributions, and academic publication articles, discussion pieces and reviews on neurophysiology.
Musharrat started her career by gaining a BSc (Hons) in Physics with Medical Applications degree and then completed a BSc (Hons) in Occupational Therapy. She also has a Licentiate in Traditional Chinese Medicine Acupuncture, and was able to use this while working as part of acute neurorehabilitation within the NHS. Musharrat has 8 years combined practice experience within both the NHS and private sector, before becoming a university lecturer. Within her private referrals, Musharrat worked more specifically in neurorehabilitation.
In September 2020 Musharrat formed and leads the Race and Cultural Equity Group (RaCEg) for Black Asian and Ethnic Minority Students in Allied Health Sciences. This is a group to support the students in their educational experiences and as future professionals.
Musharrat teaches across the board on the occupational therapy course, with specific focus on topics, occupational therapy theory and its application to practice, and the influencing factors on service delivery.
Musharrat is PhD Researcher. The title of her current research is "The impact of implementing Seddon's Vanguard Method for service improvement on service level outcomes of an occupational therapy service in England: A single case action research study."
Registered with Health and Care Professions Council
Member of the Royal College of Occupational Therapists
Member of BAMEOTUK Network