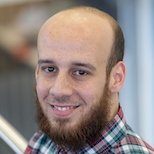 Mohammed Mansour
Lecturer in Biomedical Science
Applied Sciences / Human Sciences
Dr Mansour received his PhD (2015) in Molecular Cancer Biology from Nagoya University graduate school of Medicine, Japan, where he studied the molecular mechanisms of transcription factors (SATB1 & SATB2) in colorectal cancer. Following this, he joined the Faculty of Science, University of Tanta, Egypt as a Lecturer in Biochemistry. Then, he joined Dr David Bryant lab at the CRUK Beatson Institute, Glasgow, UK in 2017 as a Royal Society Newton International Fellow. He studied the ubiquitination of the metastasis-promoting protein Podocalyxin as a targetable vulnerability to stop the spread of prostate cancer and that ubiquitination reactivation of this protein is crucial to stop metastasis. In 2019, he joined university of Southampton to conduct research in mammary stem cell biology and teach several tutorials and modules in Biological sciences. During his Royal Society Newton International fellowship, he has been endorsed as an emerging leader (Exceptional promise) in Science. Through his PhD and postdoc research, he has 18 international publications in the field of cancer gene regulation and function, 12 of which he is lead author (first/last author). In addition to his primary research project, he has been involved in a number of collaborations nationally and internationally. He has consistently presented his research in national and international conferences. he engages with the public and research colleagues to disseminate cancer awareness and knowledge of developmental science & cancer research. He is also regularly involved in supervision and training of junior laboratory members, particularly PhD students.
Dr Mansour is currently teaching and leading modules in the BSc (Hons) Biomedical Science course at LSBU such as Biochemistry and Genetics and Molecular Biology. He adopts blended and active learning principles – making the learning active, engaging and collaborative. Dr Mansour has a wide teaching expertise at undergraduate and postgraduate levels in 3 different nations (Egypt, Japan & UK). In UK, during his postdoctoral training at Universities of Glasgow and Southampton, he engaged in several teaching and mentoring activities. For instance, he lectured in BIOL6077 (skills in Molecular Bioscience) and BIOL2011 (tutorials) at School of Biological Sciences, University of Southampton, Southampton, UK.
During his academic position in Egypt (2015-2017), he had both teaching and research activities. At the teaching level, he lectured in practical Biochemical courses including clinical Biochemistry, Enzymology, Molecular Biology, etc. for undergraduate students from the faculties of Dentistry, Science and Education. In addition, he gave lectures on topics such as Molecular Carcinogenesis, Metabolic regulation, Protein Chemistry, Neurochemistry, Immunology and Bio-analytical techniques. Among research activities conducted in Egypt, he supervised up to 2 master and 1 doctoral course students to lead their own projects in the fields of Cancer Biology, Biochemistry and Molecular Biology. The research goals of some of these projects were for designing novel drugs for inhibiting autophagic flux in cancer, sortase enzyme in pathogenic bacteria and hexokinase activity in Ehrlich-ascites carcinoma. Moreover, he participated and organized a number of international conferences and has been selected from a high research profile committee at university of Tanta to generally supervise research activities at the Centre of Excellence in Cancer Research.
Dr Mansour is a Molecular Cell Biologist with specialization in Cancer cell Biology. His special skill set is in the 3D culture of epithelial cancer cells in vitro and genetically engineered mice models to study heterogeneity. Heterogeneity is one of the most difficult challenges for cancer treatment; tumours are not only different between patients but also within a single tumour, different subpopulations exist. Some of these are sensitive to drugs while others not. In order to drug tumours, we must understand tumours as a diverse ecosystem. Traditional approaches for testing cancer drugs depend on the idea of 'more is more' assuming all cells equal, overlook individual differences, and appreciate the biggest effect. However, even if a drug kills most of the cells, some cells are left behind which are resistant and more likely to spread (metastasis).
Dr Mansour combines the use of 3D tumour cell culture as 'mini-tumours in a dish' with the development of novel biochemical and cell biological assays for identification of distinct sub-populations of tumour cells. His approach uses live imaging, biochemistry, cell biology and machine learning to understand whether subpopulations in tumours exist, couple this to drug repurposing to identify compounds that kill each subpopulation, and tailor drug combinations specifically to heterogeneity patterns in order to kill all subpopulations, and thereby overcome treatment resistance. His end goal is to unravel new therapeutic targets and drug candidates, which could be taken toward preclinical validation for agents to stop metastasis.
Mansour MA, Ibrahim WM, Salama MM, Salama AF. Dual Inhibition of Glycolysis and Autophagy as a Therapeutic Strategy in the Treatment of Ehrlich Ascites Carcinoma. J Biochem Mol Toxicol. 2020 Mar 20;e22498. doi: 10.1002/jbt.22498.
Mansour MA, Ibrahim WM, Shalaan ES, Salama AF. Combination of arsenic trioxide and cisplatin synergistically inhibits both hexokinase activity and viability of Ehrlich ascites carcinoma cells. J Biochem Mol Toxicol. 2019;:e22350.
Román-Fernández Á, Roignot J, Sandilands E, Nacke M, Mansour MA, McGarry L, Shanks E, Mostov KE, Bryant DM. (2018) The phospholipid PI(3,4)P2 is an apical identity determinant. Nature Comm. 2018 28;9(1):5041. doi: 10.1038/s41467-018-07464-8.
Mansour MA. (2018) Ubiquitination: Friend and foe in cancer. Int J Biochem Cell Biol. 101: 80-93.
Mansour MA, Senga T. (2017) HOXD8 exerts a tumor-suppressing role in colorectal cancer as an apoptotic inducer. Int J Biochem Cell Biol. 88: 1-13.
Akter KA, Mansour MA, Hyodo T, Senga T. (2017) FAM98A associates with DDX1-C14orf166-FAM98B in a novel complex involved in colorectal cancer progression. Int J Biochem Cell Biol. 84: 1-13.
Kurita K, Maeda M, Mansour MA, Kokuryo T, Uehara K, Yokoyama Y, Nagino M, Hamaguchi M, Senga T. (2016) TRIP13 is expressed in colorectal cancer and promotes cancer cell invasion. Oncol Lett. 12(6): 5240-5246.
Mansour MA, Hyodo T, Akter KA, Kokuryo T, Uehara K, Nagino M, Senga T. (2016) SATB1 and SATB2 play opposing roles in c-Myc expression and progression of colorectal cancer. Oncotarget. 7(4): 4993-5006.
Akter KA, Mansour MA, Hyodo T, Ito S, Hamaguchi M, Senga T. (2016) FAM98A is a novel substrate of PRMT1 required for tumor cell migration, invasion, and colony formation. Tumour Biol. 37(4): 4531-4539.
Ayesha AK, Hyodo T, Asano E, Sato N, Mansour MA, Ito S, Hamaguchi M, Senga T. (2016) UBE2S is associated with malignant characteristics of breast cancer cells. Tumour Biol. 37(1): 763-772.
Mansour MA, Hyodo T, Ito S, Kurita K, Kokuryo T, Uehara K, Nagino M, Takahashi M, Hamaguchi M, Senga T. (2015) SATB2 suppresses the progression of colorectal cancer cells via inactivation of MEK5/ERK5 signaling. FEBS J. 282(8): 1394-1405.
Mansour MA, Asano E, Hyodo T, Akter KA, Takahashi M, Hamaguchi M, Senga T. (2015) Special AT-rich sequence-binding protein 2 suppresses invadopodia formation in HCT116 cells via palladin inhibition. Exp Cell Res. 332(1): 78-88.
Gaber M, Khedr AM, Mansour MA, Elsharkawy M. (2018) Nano‐synthesis, characterization, modeling and molecular docking analysis of Mn (II), Co (II), Cr (III) and Cu (II) complexes with azo pyrazolone ligand as new favourable antimicrobial and antitumor agents. Appl Organometal Chem DOI: 10.1002/aoc.4606
Gaber M, El-Ghamry HA, Fathalla SK, Mansour MA. (2018) Synthesis, spectroscopic, thermal and molecular modeling studies of Zn2+, Cd2+ and UO22+ complexes of Schiff bases containing triazole moiety. Antimicrobial, anticancer, antioxidant and DNA binding studies. Mater Sci Eng C Mater Biol Appl. 83: 78-89.
Gaber M, El-Ghamry HA, Mansour MA. (2017) Pd(II) and Pt(II) chalcone complexes. Synthesis, spectral characterization, molecular modeling, biomolecular docking, antimicrobial and antitumor activities. J Photochem Photobiol: Chemistry. 354: 163-174.
Tousson E, Ali EM, Ibrahim W, Mansour MA. (2012) Treatment with folic acid ameliorated the histopathological alterations caused by propylthiouracil-induced hypothyroid rat testes. Toxicol Ind Health. 28(6): 566-576.
Ibrahim W, Tousson E, Ali EM, Mansour MA. (2011) Folic acid alleviates oxidative stress and hyperhomocysteinemia involved in testicular dysfunction of hypothyroid rats. Gen Comp Endocrinol. 174(2): 143-149.
Tousson E, Ali EM, Ibrahim W, Mansour MA. (2011) Proliferating cell nuclear antigen as a molecular biomarker for spermatogenesis in PTU-induced hypothyroidism of rats. Reprod Sci. 18(7): 679-686.
-Mansour MA (2017). SATB2 suppresses CRC via inactivation of MEK5/ERK5 signaling. Lambert Publishing, ISBN: 978-3-659-81132-6
-Mansour MA (2015). Biochemical studies of the effect of folic acid in hypothyroidism. Lambert publishing 2015. Lambert Academic Publishing. 233 pp
Journals where served as editor:
Frontiers in Cell and Developmental Biology
Journals where served as peer reviewer:
PLOS ONE – Current Cancer Drug Targets – Oncotarget
Review Editor on the Editorial Board of Molecular and Cellular Oncology (specialty section of Frontiers in Oncology and Frontiers in Cell and Developmental Biology)
Former NEWTON International Fellow, Royal Society.
Developing and maintaining collaborations with colleagues across the UK and worldwide (Glasgow, Bristol & Southampton universities (UK) - Nagoya University (Japan) – Tanta University (Egypt)) with strong cross-discipline collaborative ability.