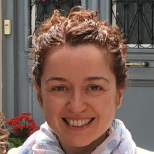 Mirsini Trigoni
Senior Lecturer & Course Director BA (Hons) Fashion Promotion with Marketing & BA (Hons) Fashion Promotion
Arts and Creative Industries / Arts and Performance
Mirsini Trigoni is a senior lecturer with expertise in interior design and visual communication, the relationship between commercial spaces and target audiences: how to use retail design, display design and visual merchandising, set design and styling so as to effectively target market segments and enhance a brand and its identity. Other areas of her expertise are media and photography, visual communication and visual persuasion.
Since 2009, Mirsini has been teaching both on undergraduate and postgraduate level, combining teaching with research and practicing design. She loves combining theory with practice. She designs and delivers practical creative workshops such as model making, props making, hand drawing, set design, material exploration and experimentation. Mirsini has successfully mentored students in order to participate in the National Window Design competition with Phaidon Press & Foyles bookshops and had the pleasure of seeing her students winning prizes and installing their installation in Foyles bookshop in Charring Cross Street.
She undertakes research projects and participates in conferences leading to publications and has received the award for Best Research conference paper in the 2nd International Colloquium on Design, Branding and Marketing. Her current research interests include retail design, visual merchandising, fashion branding, print and social media, photography and visual communication.
Under the Erasmus Scheme Mirsini has taught in KHIO (in Oslo), KEA (in Copenhagen), LCI – FD Moda (in Barcelona) and NABA (in Milan) working with international students and meeting fellow academics and experts in Retail Design and Fashion. She has also participated on international fashion jury panels (e.g. in LCI – FD Moda on Fashion Degree final show) and discussion panels on retail design with new cultural and social focus (e.g. London Festival of Architecture 2021).
Design Strategy, Design Research,Thinking & Analysis, Visual Communication - Visual Persuasion, Visual Analysis, Photography, Media, Fashion Branding, Interior Design, Window Display Design, Set Design & Styling, Model & Prop Making
Conferences & Research Events
Roncha, A., Radcyffe-Thomas, N. and Trigoni M. (2020) #TimeToCare vs #ShopOnline: How fashion and beauty brands responded to COVID-19. Conference paper presented in "The New Normal": Sartorial and Body Practices of the Quarantine Era" organised by the New Literary Observer publishing house and Fashion Theory Russia
Roncha, A., Radcyffe-Thomas, N. and Trigoni M. (2020) "Purpose beyond presence: COVID-19, Instagram and why it's #TimeToCare for fashion brands", 1st Fashion Research Open Talks
Trigoni, M. (2019) The History & Future of Window Display in Behind the Brand: Women in Fashion Forum. Victoria & Albert Museum. London, UK
Trigoni, M., Roncha, A., & Radcyffe-Thomas, N. (2019) Decoding digital fashion marketing visual texts: Instagram, fashion photography & target audiences. 52nd Academy of Marketing conference. London UK
Alexander, B., & Trigoni, M. (2018) Conjoint Creative Retail Spaces: Project-Based-Learning in Practice. 4th International Colloquium on Design, Branding and Marketing conference. Hasselt University, Belgium
Trigoni, M., Roncha, A., Radcyffe-Thomas, N. & Cigdem Gogus (2018) #TFW Gucci Rich PPL Memes: Innovation in Digital Fashion Marketing. 1st Fashion Marketing Consumption and Discourse Colloquium, Regent's University, UK
Trigoni, M. (2015) Visual Text Analysis: A new way of looking and analysing images. 4th International Visual Methods Conference. University of Brighton, UK
Trigoni, M. (2014) Visual Research Methodologies, Branding and Magazine Readerships. 2nd International Colloquium on Design, Branding and Marketing, Nottingham Trent University, UK
Publications
Alexander, B. & Trigoni, M. (2020) Plastic fantastic? Melissa's sustainability challenge. in Fashion Business Cases. London: Bloomsbury Academic.
Trigoni, M. & Alexander B. (2020) Arket: How can a sustainable approach be consistently communicated online and offline to gain competitive advantage. In Fashion Business Cases. London: Bloomsbury Academic.
Alexander, B. & Trigoni, M. (2019) Sensory Brand Experiences the Aesop Way. In Fashion Business Cases. London: Bloomsbury Academic.
Varley, R. & Trigoni, M. (2019) Strategic Retail Management in Varley, R., Roncha, A., Radcyffe-Thomas, N. & Gee, L. (Eds) Fashion Management: a strategic approach (pp.195-211). Red Global Press
Trigoni M. (2016) "Visual research methodologies, branding and magazine readerships", Journal of Fashion Marketing and Management: An International Journal, Vol. 20 Issue:3