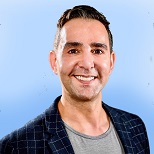 Miguel Toribio-Mateas
Innovation Consultant – London Agri-Food Innovation Clinic (LAFIC)
Applied Sciences / Human Sciences
Miguel is a lecturer in microbiome science and the gut-brain axis. He is also a Visiting Research Fellow at the School of Applied Sciences.
He has an active role as Innovation Consultant at the London Agri-Food Innovation Clinic and works alongside doctoral researcher in Psychobiotics, Adri Bester, at the Bowels and Brains Lab, an innovative research unit set up with funds from the European Regional Development Fund at LSBU, where Miguel is studying the effects of nutrition and lifestyle interventions on cognition, mood and behaviour via microbiota-gut-brain axis, aiming to establish correlations between microbiome-based markers and measures of mental wellbeing using patient-reported outcomes using measures with psychometric validity.
These correlations and their use in the real world are the subject of his doctoral degree at Middlesex University, for which he was awarded a Santander Universities Scholarship in 2016.
Miguel is a lecturer in microbiome science for the Biomedical Science degree, focusing on the following areas:
The microbiome in health and disease.
Gut-brain communication by means of the microbiota-gut-brain axis.
Microbial signatures characterising neurodegenerative conditions such as Parkinson's and Alzheimer's disease
Microbial signatures in both positive and pathological mental health.
Food-microbiota interactions.
Miguel's principal research interest is the microbiota-gut-brain axis and its interface with cognition and mental health. He is currently studying the associations between microbiome-based markers such as microbial diversity, microbiota composition, microbial metabolites (short chain fatty acids, markers of mucosal barrier integrity, etc.) and domains of cognition such as memory and focus.
He is also aiming to establish the relationship between the microbiome-based markers mentioned above and domains of mental health such as psychosocial stress, psychological resilience, and happiness.
Member of the British Neuroscience Association
Member of the Royal Society of Biology
Member of the Microbiology Society
Member of the Society for Applied Microbiology
Member of the Nutrition Society
Fellow of the British Association for Nutrition and Lifestyle Medicine
Miguel brings over 20 years of experience to LSBU, in both academic and industry roles. He is a sought-after public speaker known for his approachable, "plain English style". He has worked as part of multi-disciplinary mental health clinical teams, and lately designed and delivered a nutritional neuroscience programme for enhanced cognitive performance to leading financial corporations in the City of London.
In addition, Miguel provides education and scientific advisory services to both clinical and industry partners and is currently the Director of Nutrition and Health Research at UK-based microbiome company Atlas Biomed.