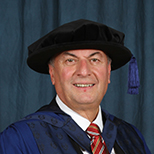 Mick Jarvis
Honorary Doctor of the University
Mick Jarvis graduated from what was then South Bank Polytechnic in 1975 with a degree in Business Studies, and has maintained close links with the University ever since, giving generously of his time and sharing his deep knowledge and experience of the energy industry.
Mick spent the early years of his career working for Phillips Petroleum in London and the US, for Amoco and for PSG Limited where he was responsible for commercial activity on the Trans-Caspian Pipeline project. In 2004, he set up his own company, WHAM Energy, to explore opportunities in the North Sea. Having successfully listed the company on the London AIM, he rejoined ConocoPhillips in 2006, this time based in Houston, Texas, and with a remit to focus on business development worldwide.
Since leaving ConocoPhillips in 2014, he has worked as an independent energy consultant, supporting energy companies in managing projects and acting as an expert witness. A specialist in negotiating, he is one of the industry's leading trainers in negotiating skills and a faculty member of the Association of International Petroleum Negotiators, the industry body he presided over from 1993 to 1994. He is also an honorary associate of the University of Dundee, a guest lecturer at the University of Texas at Austin and a former member of the Legal Advisory Task Force of the Energy Charter Secretariat.
Always quick to credit LSBU with setting him on the path to a successful career, Mick is a long-standing and much valued supporter of our University. A regular speaker and attendee at our events, he supports students on industrial placements and remains in close contact with many of our alumni. He is also sponsor of the Mick Jarvis Industry Award, which recognises those students that perform particularly well during their year in industry.