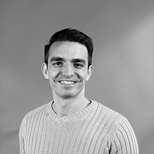 Michael A. Berthaume
Lecturer
Engineering / Mechanical Engineering and Design
Dr Berthaume is a lecturer in the Division of Mechanical Engineering and Design. He started his tenure at LSBU in the fall of 2019. Prior to LSBU, he was a research associate at Imperial College London, University of Durham, Max Planck Institute of Evolutionary Anthropology, and University of Hull. With degrees and research experience in both anthropology and engineering, his work has focused on the creation/establishment of the field of anthroengineering. He has hosted several symposia on the subject, and has established Berthaume Anthroengineering (BAE) labs at LSBU to develop the subject.
He is always considering new master's/PhD students and postdocs. If interested, please enquire via email and include a recent copy of your CV.
Michael is teaching in Manufacturing Systems and Materials Technology and Advanced Solid Mechanics and Dynamics.
Dr Berthaume's research revolves around the development of the field of anthroengineering, and has three foci: primate evolutionary biomechanics, biomechanics of human biological variation, and the development of sustainable, culturally relevant medical devices for low- to middle- income countries (LMICs).
His work in primate evolutionary biomechanics has focused on masticatory biomechanics, and the roles of tooth shape/size and food item mechanical properties in food item breakdown. He has also conducted extensive work investigating the role of cranial/mandibular shape/size in masticatory biomechanics. He has done extensive work in modelling mastication (both digital models and physical experimentation).
In biomechanics of human biological variation, Dr Berthaume is best known for his work with the fabella, a sesamoid bone in the knee, which he found to be ~3.5 times more common today than 100 years ago. He currently has several fabella projects being conducted.
Dr Berthaume's work in LMICs has focused mainly on the development of a temporary external fixator for Sri Lanka, and prosthetic devices for LMICs. He has done work in Sri Lanka and Tanzania, and will be conducting work in Rwanda shortly.
American Association of Anatomists
American Association of Physical Anthropologists
Anthroengineering Network (co-founder)
European Society of Human Evolution
OATech Network
The Paediatric Blast Injury Partnership